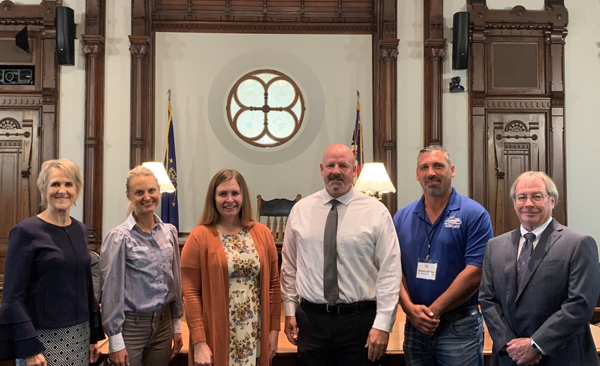 On Oct. 5, the Kosciusko Leadership Academy cadets heard from four speakers from different parts of the judicial and law enforcement systems in Kosciusko.
The Honorable Karin McGrath, Superior Court 1 judge, was appointed by Gov. Eric Holcomb to fill the post vacated after the death of Judge David Cates. McGrath spoke about challenges facing the judicial system in Kosciusko County. She also presented initiatives like the Juvenile Detention Alternatives Initiative (JDAI) and Teen Court. These programs rehabilitate and solve root problems rather than just incarcerate, according to a news release from KLA. McGrath is the first female judge in this county.
The Honorable Christopher Kehler, judge for Superior Court IV, presented an overview and brief history of Kosciusko County's judicial system, which dates back to 1836. Kehler spoke about Levi Lee who was the county's first judge and the namesake of Leesburg. Kehler handles domestic and civil cases.
Courtney Jenkins presented an update of the Jail Chemical Addition Program (JCAP). This  Kosciusko County Jail program provides inmates with a voluntary recovery program. The classes include anger management, parenting classes, finance, fitness programs, as well as addiction counseling. JCAP also helps the inmates in achieving certificate programs and their high school diploma. Since the start of the program in 2018, there have been 80 participants with over 50% successfully completing and exiting incarceration, the release states.
Warsaw Police Chief Scott Whitaker spoke about the challenges facing the police department and also about how Kosciusko County officers work together. He noted Warsaw Police Department has around 30 officers in an increasingly diversified team with three female and three bilingual officers.
The next KLA session will cover human services in Kosciusko County at the K21 Health Pavilion on Tuesday, Oct. 19.
The Kosciusko Leadership Academy is in its 40th year of service to our county. As an independent 501(c)3 organization, KLA conducts biweekly morning sessions around the county to expose leaders to a wide variety of local topics and experts.  The annual whitepaper projects have yielded many benefits to the citizens of Kosciusko County. For more information, visit www.kocsciuskoleadership.org.