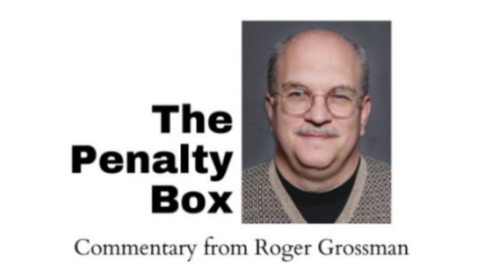 By Roger Grossman
News Now Warsaw
There is a line from an old beer commercial that popped into my head while I was in Florida with my family last week.
I was reading about the longtime Pittsburgh Penguin player, Patrice Bergeron, and his announcement that he was hanging up his skates this summer.
You probably have never heard of him, but he played every minute of his 1,294 games over 19 years in a Penguins sweater.
He scored 427 goals and tallied over 1,000 points during his time on the NHL ice.
But it was time.
The obvious question was "Why now?"
"I'm a very intuitive guy," he said. "I feel like I always listen to my instincts and my heart, and it just felt like it was time for me to move on. Unfortunately, I wish I could play forever and never have to do this. But, as you know, eventually you have to move on."
He then went on to joke that he had already been accepted at a new job—being the family Uber driver. I am sure everyone at his house will love that.
That same question gets kicked around a lot, and not just in relation to sports circles. I am guessing a lot of you reading this either have made the decision to stop what you have been doing as a career your whole life or you are thinking about when and how you'd like it to end.
That's pretty normal and natural.
There are so many factors that play into when 'enough is enough' that it really becomes a personal decision that only that person can make.
We know of people who cut their careers short, and health is the main factor in that. Andrew Luck was the most recent and most glaring example. The poor guy took a beating as quarterback of the Colts, and his body just quit working—and he listened to it.
Yes, his exit from the Colts was bad and the franchise has still not recovered from it four years ago this month.
But he wanted to be able to lead a normal life after football, and he chose to stop playing to try to make that possible.
Barry Sanders is another guy whose early exit is still a mystery. He was at the peak of his game when he stopped playing for the Lions.
Of course, there are perfect times to retire.
Cubs skipper David Ross announced his retirement in the middle of the Cubs run to the World Series title in 2016, and his last game was capped off with a home run in his final at bat in Cleveland. He was carried off the field by his teammates, and we all know what happened after that.
And then there are the people who have had the chance at perfect endings and held on too long. Tom Brady is the prime example of that.
He had all the glory and accolades. He had so many people declaring him the greatest quarterback of all time.
He had more money than he could ever spend. He had a supermodel wife and a beautiful family.
And he retired…for a few weeks.
Then, he changed his mind.
He was wooed by the rush of competition or whatever and he sold his soul to continue experiencing it. Shortly after he agreed to sign with Tampa Bay, word of his marriage failing began to leak out.
Yep, he won another Super Bowl with the Bucs, but the cost was the second most important relationship he could ever have, and he clearly had put his relationship with football ahead of his family.
And we can think of a lot of people in every profession who stayed too long. They can't appropriately assess their own abilities and skills at their current place in life. They aren't as good as they used to be, but they don't want to stop, and I get that.
When you stop, it's over. There is no turning back. There is no changing your mind and trying to jump back in.
I think often about what the end of my broadcasting life will look like. I want to make sure that I don't stay too long and don't do something that would embarrass myself to tarnish all of the good that I have done over 32 years.
I'd rather quit early than go one broadcast too long.
What does that end look like for me? I have no idea. I try not to set milestone goals or shoot for the future. I am working now toward the first Tiger Talk show on Aug. 12 and the first football broadcast on the 18th.