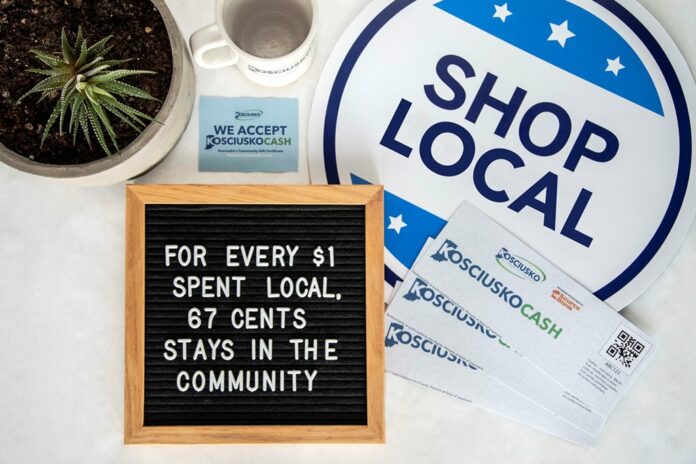 The Kosciusko Chamber of Commerce recently announced that Kosciusko Cash is now available for purchase. Kosciusko Cash is Kosciusko County's new Community Gift Certificate.
It can be redeemed at any participating merchant and purchased online at kchamber.com. The intended purpose of introducing this program to our community is to encourage people to shop local. Instead of giving family, friends, clients or employees national brand gift cards, individuals and businesses can now give them Kosciusko Cash to help support our local businesses.
For a limited time only, the Chamber is offering BOGO certificates to help launch the program. For every $20 spent, the Chamber will send the recipient a $10 Give Back certificate. The Give Back BOGO is limited to $100 per person. The Chamber Board has allocated $50,000 for BOGO opportunities. This offer is available to individuals only. Businesses who wish to purchase large quantities of Kosciusko Cash should contact the Chamber for more information about their corporate deals.
Kosciusko Cash is a one time use certificate, the minimum purchase is face value of the
certificate. The Chamber recommends purchasing Kosciusko Cash in small dollar amounts in order to use it at different businesses. Contact the Chamber to request larger quantities if you intend to use it all at one location. Kosciusko Cash is not redeemable online.
The list of participating merchants is growing daily. The current participating merchants are, Anytime Fitness Warsaw, Biryani Kitchen, Board and Brush Warsaw, Boggs Automotive, Boggs Pit Stop, Cerulean Restaurant, E.F. Rhoades & Sons/Cottage Watchman, Elysian Co., Fire-N-The Hole Pizza, Glam Boutique, J.B.'s Furniture, Kerlin Motor Company, Ketomom Coaching, Lake City Music Together, Law Office of Travis J. McConnell, Lowery Sewing & Vacuum Center, Mad Anthony Brewing Company, Male Fashions, Meraki Co., Milford Party Pack, Reinholt's Town Square Furniture, Rockbottom of Warsaw, Shawnanigans, Shoe Sensation, Subway – Silver Lake, The Igloo, Thai House Corporation, The Lab, The Olive Branch, Times-Union, Winona Heritage Room.
Any business in Kosciusko County is eligible to participate in Kosciusko Cash as long as they are a member of the Kosciusko Chamber. Kosciusko Cash is sponsored by 1st Source Bank. For more information about Kosciusko Cash or to become a participating merchant, contact the Chamber at kcash@kchamber.com or call 574.527.6311 x2.