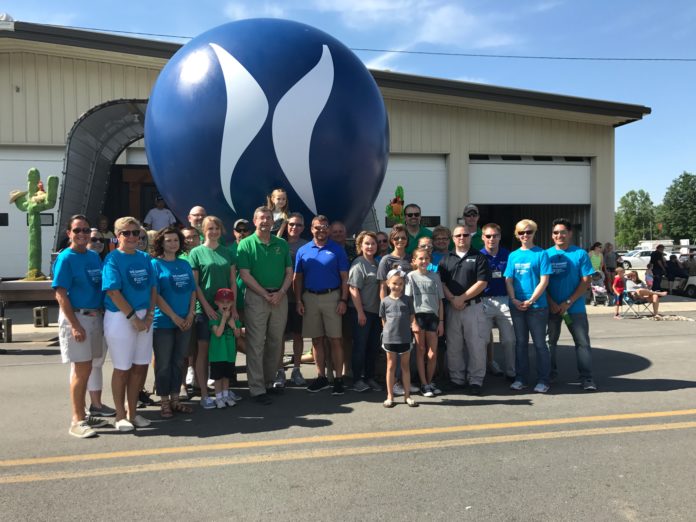 Kosciusko Community Hospital is announcing a ten year partnership with Tippecanoe Valley School Corporation.
In an announcement made Saturday at the Mentone Egg Festival, KCH says they are aiming to help advance wellness-based programs and services throughout the community. Their partnership with the school corporation will focus on the mental and physical health and wellness needs of K-12 students, school staff, and beyond. They say they also want to focus on the needs of the communities Tippecanoe Valley Schools serve.
Superintendent Brett Boggs thinks the ten year commitment to collaboration is promising.
"The Tippecanoe Valley School Corporation is pleased to form this partnership with KCH.  The partnership promises to benefit our students, staff and the community for many years to come," he explains.
The partnership will allow the school corporation priority access to many of the programs and services provided by KCH. Initiatives stemming from the alliance will be themed as Partners in Wellness. Strength in Community.
Kosciusko Community Hospital CEO Kirk Ray says KCH is looking forward to the long-term relationship.
"We anticipate providing health education opportunities and enhancing health care services for both the school system and community, " says Ray.
Both organizations will have a say in what the needs of the schools and communities are, according to a press release from Tippecanoe Valley School Corporation. A committee will assess those needs, and have already made some immediate plans.
Current priorities determined by the collaborative committee include upgrades to the playground areas at the Burket Educational Center and Mentone Elementary School and bringing the Student Assistance Program to all Tippecanoe Valley schools. The Student Assistance Program was created to provide Tippecanoe Valley High School students two free pre-paid sessions of counseling at any Bowen Center outpatient location.
Superintendent Brett Boggs has additional ideas.
"We also hope to pursue the possibility of an on-site health clinic that will benefit Tippecanoe Valley School Corporation employees and possibly partners within the community," mentions Boggs. "Enhancing the Valley Strong strength and conditioning program is another area of need."
A press release from the school corporation says they also hope to provide additional work and career-based experiences for students in the medical field through the partnership, as well as more education on nutrition and healthy eating.
Representatives from both Lutheran Health Network Kosciusko Community Hospital and Tippecanoe Valley School Corporation walked in the Mentone Egg Festival parade Saturday as the symbolic first steps towards their long-term wellness goals for the community.