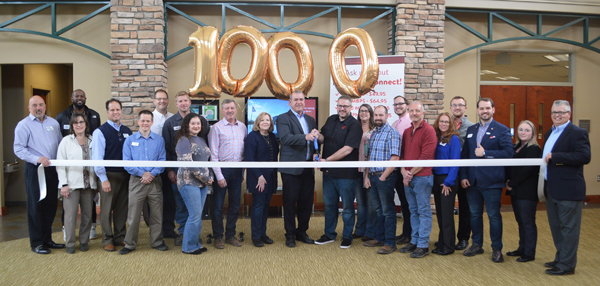 In just over four months, Kosciusko Connect has connected more than 1,000 members to its high-speed internet service.
Thursday afternoon, Kosciusko Connect, a subsidiary of Kosciusko REMC, celebrated the milestone with a ribbon-cutting with the Kosciusko Chamber of Commerce, followed by cupcakes and Igloo ice cream.
"We connected our first member to our high-speed internet service in December of 2021," said Kurt Carver, president and chief executive officer of Kosciusko REMC and Kosciusko Connect, in a prepared statement. "Since then, we have now connected over 1,000 members. It's very rewarding to hear the positive impact we are making in our community. I am very proud of our employees and contractors for their dedication and hard work, which has helped us reach this milestone so quickly. We have a very aggressive work plan for providing our high-speed internet service to our entire service area. Our goal is to provide internet access to our entire membership by December 2023."
In an interview after the ceremony, he said Kosciusko REMC has 18,500 members who could potentially sign up for the high-speed internet.
"We can do all sign-ups and installs in Zone 1 and we are getting ready to open up our first feeder in Zone 2 next week," said Curt Barkey, Kosciusko REMC vice president of technology and broadband.
Carver said they're working in the northern part of the county now, then they will northwest, then southwest and right around the county. He said there's been a lot of interest in the southeast part of the county to get the internet because of the lack of options.
On Dec. 9, Kosciusko Connect commemorated the official connection of their first community members to the internet network. Phillip and Amber Fink, 1330 N. Antler Drive, Warsaw, who had been using Kosciusko Connect for a couple of weeks at that time, said it was "amazing."
Carver said they're hearing similar statements from other customers as they get connected.
"Everything's positive. We've got a lot of energy, especially in the rural area. Everyone is real positive, excited," Carver said. "The first question everyone (asks) is, how soon can we get it?"
Before deciding to go forward with the high-speed network, Carver explained that Kosciusko REMC reached out to its members and did a feasibility study on how many were interested. They received an "overwhelming" positive response to it.
The idea was taken to the Board of Directors who was very supportive of it.
"It just started escalating from there," Carver said, adding that offering it was the "right thing to do."
He said, "Just like electricity, we're here for our members. Our members wanted this, the need was there, so it's our responsibility to provide for our members."
Barkey said there are other REMCs in the state doing something similar.
Recently, it was announced that rural broadband projects in Senate District 9 will receive a total of over $17 million to improve broadband connectivity through the third round of the Next Level Connections Broadband Grant Program. Kosciusko Connect received a grant from that money to expand broadband access to 1,159 households and 132 businesses in Fulton, Kosciusko, Wabash and Whitley counties, according to a recent news release from Indiana Sen. Ryan Mishler.
"We'll get that money as we build (the broadband) out," Carver said.
Barkey said the grant money is for unbuilt areas. "So that grant is really focused on the southern part of our build-out, and so because we're focusing on our members first, that number that you see" for customers and businesses, "those are our customers in that area. So that will help fund construction drops, home installs, the whole process."
"It's areas that we haven't been to yet, in other words, down south," Carver said.
He said they're on track with their plan and hoping to hit 4,000 members by the end of this year, with the complete rollout to members by December 2023.
"We're keeping busy. We're moving as fast as we can because we know everybody is excited to get it," Carver said.
He said he was very proud of the staff and employees who are doing a great job in making it all happen.