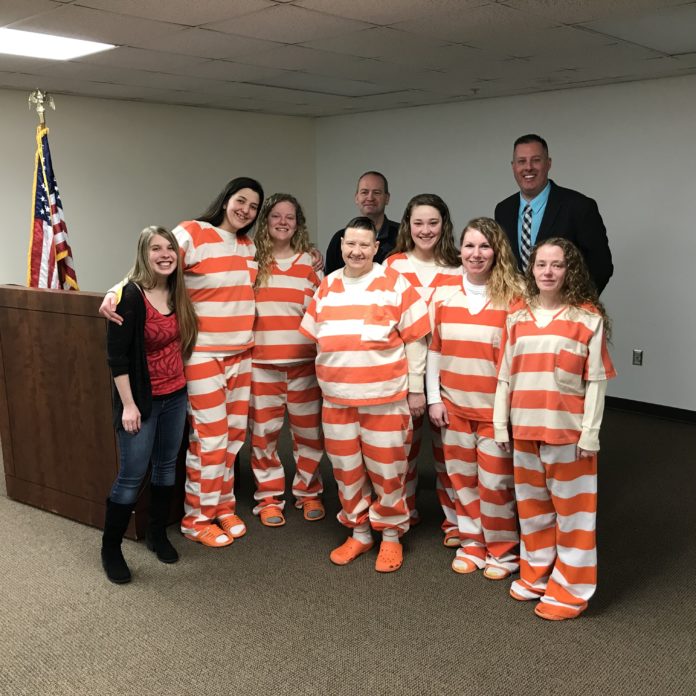 Seven women are the first to graduate from the Jail Chemical Addictions Program at the Kosciusko County Jail.
The women were hand-selected to participate after showing an interest in making positive changes in their lives. The goal of the program is to offer accountability and help as these women learn to live without addiction. 
Over the past 4 months the women have participated in intensive group therapy and Moral Reconation Therapy  facilitated by the Bowen Center as well as CO-Dependents Anonymous, Narcotics Anonymous and Effective Communication classes facilitated by The Beaman Home. The program also provided parenting classes, leadership classes, a financial course through Lake City Bank, fitness classes, Spiritual and Life-Skills classes led by New Life Christian Church.
In addition to an intense daily schedule while in the jail, program participants will have tailored re-entry plans to help with their transition from incarceration to freedom.
Depending on the individual circumstances, participants will have help finding sober living through The Rose Garden, Serenity House or All Things New. Recovery Coaches will be paired with participants through a partnership with A Bridge to Hope and the women will have help getting insurance through Brightpoint.  
The Beaman Home is offering classes and counseling services free of charge, including counseling and classes for the participants' children.
The Jail Chemical Addictions Program director will work closely with Kosciusko County Probation, Community Corrections and Work Release to follow the participants' progress for 2-3 years after they complete the program. 
RELATED POSTS