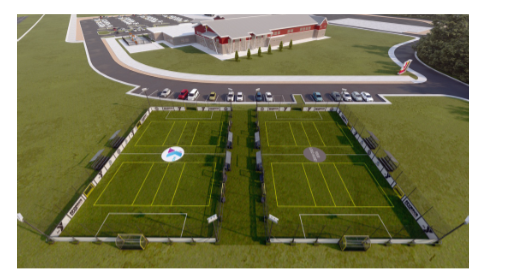 WARSAW – Kosciusko Community YMCA in Warsaw has announced plans to establish an outdoor sports park that will open in the spring of 2023. 
Thanks to a partnership with Urban Soccer Park, YMCA members and guests will be able to use turf fields for a wide variety of games, sports leagues, group exercise classes, and other athletic events.
Urban Soccer Park's mission is to bring accessible, quality athletic fields to every community across the nation. They design, manufacture, and install professional-grade turf fields that can be used for a variety of sports and activities.
The future outdoor sports park will allow the YMCA to offer a variety of programs, including youth and adult soccer leagues, youth and adult volleyball, group exercise classes, handball, field hockey, youth and adult wiffle ball and Pickleball.
"Here at the YMCA, we want to create a positive experience for the entire community, and that's what we get with this outdoor sports park," said Jim Swanson, the CEO of YMCA.
"We hope this will be the perfect destination for residents of Kosciusko County to come together to enjoy all that athletics have to offer."
For more details about the Kosciusko County YMCA's work in the community and current projects, visit our website.