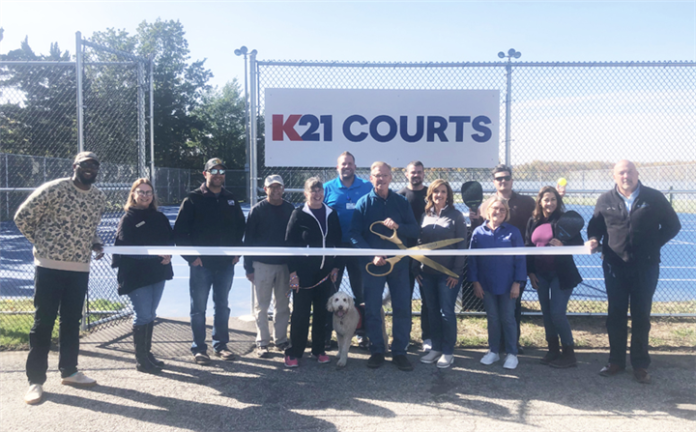 Ledgeview Brewing Co. has made it easier for food lovers to taste their product beyond the restaurant's Warren Street location in Warsaw.
The Kosciusko Chamber of Commerce held a ribbon-cutting for Ledgeview's food truck on Thursday.
Craig McLaren, who owns Ledgeview with his wife Abby, said they've already taken their food truck out to different events this year, including the Fat & Skinny Tire Fest.
"We had one (food truck) here when we purchased the property. It was on the property. It wasn't working or anything like that, so we broke the whole thing down to the frame and rebuilt it from scratch," he said.
The food truck utilizes all the food that is made at the restaurant. "So like the brisket that we make here, we turn it into chopped brisket sandwiches. … We make sandwiches on the truck instead of platters," he said. "So we have a chicken sandwich, a beef sandwich, a pork sandwich. We have nachos on there. We also do a vegan sandwich as well."
As for drinks, the food truck just offers soda and water. Ledgeview can do beer with the food truck with enough time to get the alcohol permit.
"Everything on the truck, we don't sell here (at the restaurant)," McLaren said.
Wherever the truck goes, he said people can find out about it through their social media a day or two in advance. They try to keep the food truck in Kosciusko County "more than anything," he said. "It's more local for us, closer, because we don't just have the food truck – we have the restaurant and brewery first. And then the food truck is just an opportunity to get out to more places. It helps with publicity. It helps get hours for the staff."
Ledgeview opened Dec. 19, 2020, at 975 Warren St., Warsaw.
As for the future, McLaren said they're going to do an expansion at the restaurant.
"We've already talked to contractors and that. We're going to build another building adjacent to us, connected at the same time. We're going to move the brewery out there and make it bigger. We're going to move out into more of the field because we own all that field that's out there. So put more seating out there, more walkways around. Try to get a gazebo out there for weddings and stuff in the future. And then we'll start concentrating on like events and catering as well. We do catering now, but I think once we have the new addition on, we'll do a lot more with it," he said.
McLaren said they're always looking to hire.
If you haven't eaten at Ledgeview yet, he said their beer is No. 1 for them.
"We make all the beer in house. We don't sell anything else, just our beer. And soda and water. But all the beer is made in house, and then barbecue on top of that," he said. "We don't do traditional barbecue. We don't say we make just Memphis. We don't say we make just Texas style. We kind of make them – I call it American barbecue. It's a little bit of everything."
He said they make great brisket, ribs and their Mac & Cheese is "killer."
Their No. 1 seller – which started out just as a one-time thing – is their Sweet Potato Nachos. "We can't keep up on those," he said.
He said they're 96% scratch kitchen. The only thing that comes in frozen are the rolls and French fries. "Everything else we make. Like spice mixes, we make from whole. We bring in all the whole spices. We grind them all down. We make everything from scratch," McLaren said.
All the recipes are his. He was a corporate chef for over 20 years, working at hotels across the country.
"I was an executive chef out at Boston and Abby and I just wanted to step away from the corporate world. So that's why we live here. She's from Goshen originally," McLaren said.
While Ledgeview is a brewery, he emphasized they are family friendly. As long as the patio is open, they're dog-friendly as well as long as the dog is patio-friendly.
The website is Ledgeviewbrewing.com, and they have pages on Facebook and Instagram.