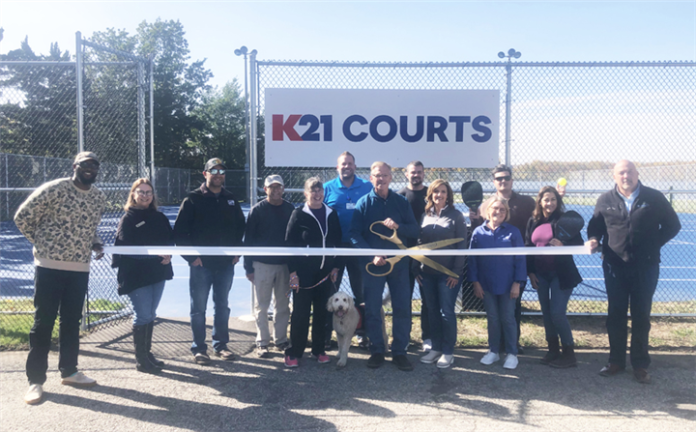 Pickleball is the fastest-growing sport in America with nearly 5 million players in the U.S., according to usapickleball.org.
Thanks to a grant from the K21 Health Foundation, the Warsaw Parks and Recreation Department has new pickleball courts and improved tennis courts at Bixler Park next to Center Lake.
Friday afternoon, the Parks Department and K21 had a ribbon-cutting with the Kosciusko Chamber of Commerce for the K21 Courts.
Larry Plummer, Warsaw Parks superintendent, explained, "We took three old tennis courts, widened the surface by 12 feet to accommodate four pickleball courts and two tennis courts. We're looking to give the citizens of Warsaw more opportunity for recreational pickleball play and tennis play."
The K21 Health Foundation has been very gracious, he said, in providing the funds for part of the project.
"They supported pickleball and tennis at the Kelly Park courts as well," he said.
Between the two projects at Kelly and Bixler parks, Plummer said K21 gave over $80,000 and "we're grateful for them."
The K21 Courts at Bixler Park opened Oct. 1.
"We've had extensive play on them. We have a (security) camera on the pole there.  We can see we've had multiple times where the pickleball courts and tennis courts were played together. It seems to be a big hit. They seem to like it," Plummer said.
He pointed out that the K21 Courts at Bixler Park are lit so people can play at night. They are open after park hours because of the lights.
The nets will be taken down at Bixler and Kelly parks on Nov. 1 and be stored for the winter. They will be brought back out early April.
K21 Marketing and Community Manager Jennifer Stewart said, "Pickleball is exploding as far as recreation goes because everyone can play it, and so we are so excited to be a part (of this). Warsaw and Larry have just been great in promoting this as an activity for the residents of Kosciusko County, specifically Warsaw. So we are thrilled to just be a part of this and help support them."
Plummer mentioned they've had two people – one for tennis, one for pickleball – that are interested in offering clinics at the K21 Courts for next season.
"So that's going to be a part of our recreational programming next year as well. We'll have clinics for learners, our beginners, for tennis and for pickleball," he said.
More information on those clinics will appear in the 2023 recreation guide.