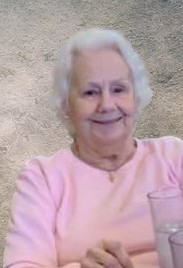 Lillian J. Beach, age 84, passed away quietly with her family at her side on Thursday, March 17, 2022 at Mason Health and Rehabilitation Center, Warsaw.
Born on July 9, 1937, Lillian was the daughter of Daniel Wilks and Grace (Wicker) Wilks. She was one of thirteen children born to the pair and learned the value of hard work at an early age. She held many positions throughout her working career but is most remembered for her time at Korth Furniture, Holiday Rambler RV and Nappanee Wood Products.
An uncomplicated and modest person, Lillian was never boastful or pretentious. She had a heart of gold and a kind personality. She enjoyed watching the birds and rabbits outside of her daughter's home where she lived for the past several years. She also liked watching Westerns and Judge Judy on TV. Mostly, she enjoyed good food, laughter and time with family.
Lillian was married for nearly 42 years to the late William Beach. The pair was married on March 26, 1954. Also preceding her in passing: two children, Terry Beach and Tonna "Toni" Metcalf; two grandchildren: Tracey Ingle and Jasin Beach and nine siblings. Those who survive with memories to cherish include two children: Theresa (Brian) Fry of Nappanee and Tommy Beach of Warsaw; son-in-law, Craig Metcalf of Larwill; sister, Dorothy Williams of Worthington, KY; two brothers, Steve Wilks and Harvey Wilks both of Webbville, Kentucky; 13 grandchildren; 29 great-grandchildren and 15 great-great-grandchildren.
Care of Lillian and her family is entrusted to Titus Funeral Home and Cremation Services, 2000 East Sheridan Street, Warsaw. Her funeral will be held at Titus, officiated by Pastor Jonathon Kitchens of Bibleway Apostolic Church. Funeral service will begin at Noon on Wednesday, March 23 with visitation for two hours prior. Burial will take place in Oakwood Cemetery, Warsaw.
In lieu of flowers, the family would prefer monetary gifts be made in Lillian's name to Premier Hospice, 10315 Dawsons Creek Blvd # J, Fort Wayne, IN 46825. Written condolences may be left for the family at www.TitusFuneralHome.com