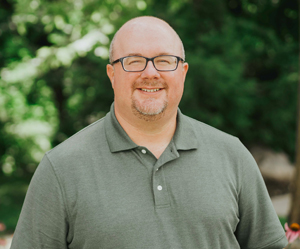 WINONA LAKE – The Lilly Center for Lakes & Streams welcomes its new associate director, Jeremy Price, who assumed the position on Monday.
Price, originally from Winamac, served the Indiana Department of Natural Resources (IDNR) in a variety of capacities for almost 20 years. He started his career as a fisheries biologist in northwest Indiana with the Division of Fish & Wildlife. Most recently, he oversaw fisheries research and management in northern Indiana in his state-level role as fisheries supervisor. Price was instrumental in cooperatively managing Lake Michigan Fishery alongside representatives from three other states and a tribal resource agency. In addition, his work included team leadership, budget management, strategic planning, grant management and conducting research, according to a news release from The Lilly Center for Lakes & Streams.
"I knew I wanted to be at Grace College since the day we brought our daughter to visit," said Price. "It's clear that the Lilly Center is something very special. I'm excited to put my skills, experience and educational background to work and continue my professional and spiritual growth."
Price earned his bachelor's degree in fisheries and aquatic science from Purdue University in 1999. He went on to complete a master's degree in fisheries science in 2005 at Michigan State University. Price and his family currently reside in Columbia City.
"Jeremy's depth of experience is invaluable to the Lilly Center," said Nate Bosch, Lilly Center director. "I'm excited to see how Jeremy can take us to the next level and improve on the great foundation we already have here at the center."
As associate director, Price will direct and manage the day-to-day operations and financial strategies of the Lilly Center. He will lead the Lilly Center staff and ensure the success of the Lilly Center's efforts. Price will also be a key advocate for the Lilly Center through grant writing and building relationships with stakeholders and partner organizations.
The Lilly Center for Lakes & Streams at Grace College conducts research, provides resources, engages and educates residents, and collaborates with local organizations to make the lakes and streams of Kosciusko County clean, healthy, safe and beautiful. To date, the Lilly Center has conducted scientific research on over 30 streams and 40 lakes. The Lilly Center is driven to create a legacy of stewardship by equipping community members, visitors, and future generations with understanding and to enjoy the county's natural beauty, the news release states. For more information, visit lakes.grace.edu.