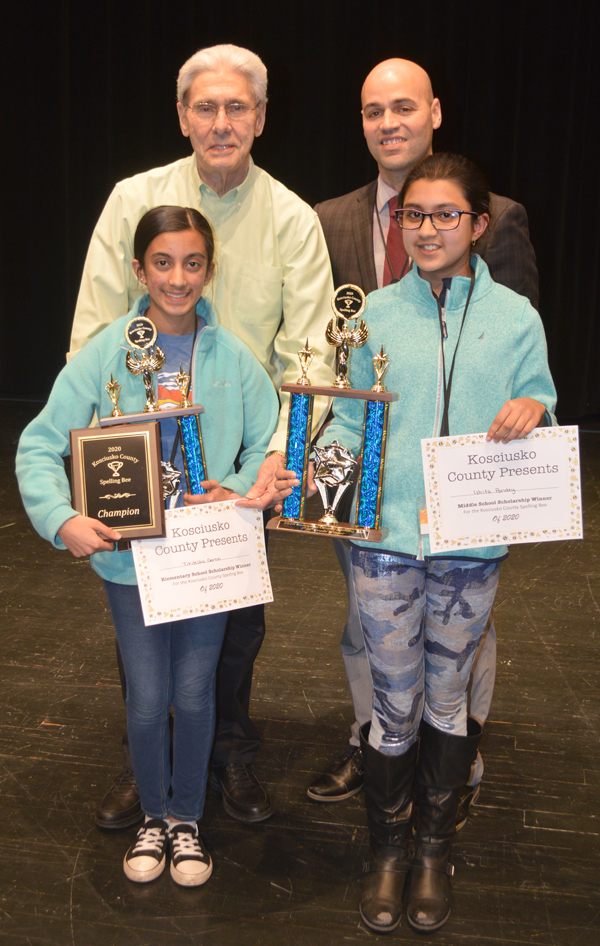 The winners of the Kosciusko County 2020 Spelling Bee Tuesday evening had an "impetus" to bring home their trophies.
As the champions of their grade division, Titiksha Gorhe and Ishita Pandey each will receive a $2,500 Richard R. Long Scholarship. The scholarships are given annually in recognition of Long's many years of service to the children, teachers and parents of North Webster School and in honor of his work for the International Palace of Sports, now known as the Shoop Sports and Youth Foundation.
Gorhe, a sixth-grader at Lincoln Elementary School, won the grades 5 & 6 division, as well as being the overall spelling bee champion. She is the daughter of Devendra and Pradnya Gorhe. She said she studied "quite a lot" and "every chance I got."
She will compete at the Regional Spelling Bee in Fort Wayne next month.
Pandey, an Edgewood Middle School seventh-grader, was the last middle schooler standing to win the grades 7 & 8 division. The daughter of Rashmi and Vinay Pandey, she was the elementary and overall spelling bee champion in 2019 after 57 rounds.
This was the second year the spelling bee was combined into one contest. In the past, the fifth- and sixth-graders would have a spelling bee to determine a winner. After the middle schoolers competed, that winner would have a spell-off against the elementary winner to determine the overall winner. Tuesday night, all the students competed against each other, with the grade division winners and overall winner determined at the end.
It only took six rounds to determine the 2020 winners.
In the first round, two students went out after misspelling "special" and "squawk." Four students were knocked out in round two, one in round three, three in round four and then four more students fell out in round five.
Round six started with a misspelling of the word "disproportionate," followed by misspellings of "attributed" and "jeepney."
Gorhe then correctly spelled "adhesion" and then "impetus" for the win.
The spelling bee was held at Lakeview Middle School in Warsaw.
Other students competing in Tuesday's academic contest included: Veronica Morales, Akron Elementary; Izamaya Velazquez, Claypool; Melayna Howett, Eisenhower; Griffin William, Harrison; Evan Schneider, Jefferson; Ava Norris, Leesburg; Claire Temple, Madison; Christian Del Real-Arteaga, Mentone; Serenity Dunn, Milford School; Kullayana Caudell, North Webster Elementary; Jonah Brennaman, Pierceton; David Hall, Sacred Heart; Reese Beasley, Syracuse; Kaylynn Miller, Tippecanoe Valley Middle School; Molly Gormally, Warsaw Christian; Atharva Singh, Washington; Gabriel Quick, Lakeview Middle School; and Emma Jackson, Milford School.
Spelling bee emcee was Lakeview Middle School Assistant Principal Todd Braddock. Pronouncer was Kristin Allen; verifier, Lynn Studebaker; and judges were Robin Coffman, Lynley Hiser and Hunter Reed.