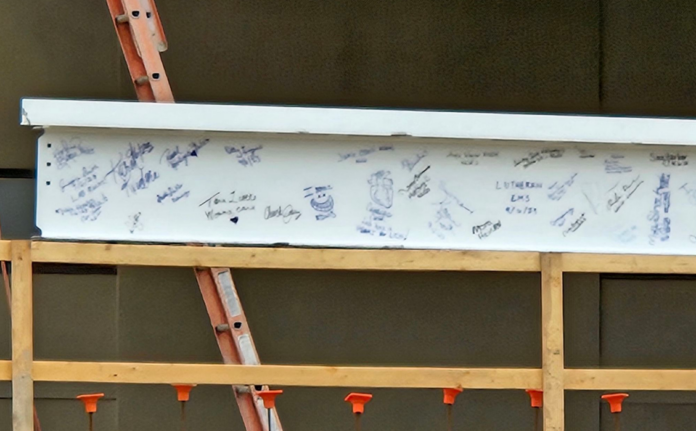 By Dan Spalding
News Now Warsaw
WARSAW — The final piece of a $30 million structural puzzle came together Wednesday afternoon on the campus of Luthern Kosicusko Hospital.
Workers for Walsh Construction of Chicago placed the final structural beam of the ongoing expansion project along the top of what will be an expanded operating room on the east side of LKH in an area adjacent to the future reconfigured entrance of the hospital.
Work began earlier this year and LKH CEO Lynn Mergen said the project — which also includes extensive interior renovations.
Hospital employees celebrated the milestone by signing their names on the white steel beam earlier in the day.
Applause broke out as construction workers indicated the beam had been secured.
"It's a lot of pride for everybody," Mergen told an assembled crowd. "This has been a couple of years in the works and after COVID and delays, it's really special … This is a great day."
"We've been here since 1976, serving the people of this area and we are dedicated to that," Mergen said.
Mergen said the employee signatures on the beam underscore the excitement of moving toward finishing the project.
"It's just another example of (how) the people here are dedicated to this community."
The lobby is being renovated to make it more customer-friendly, he said.
The front will be done by next summer and then work will begin on interior improvements that will continue for another year, Mergen said.