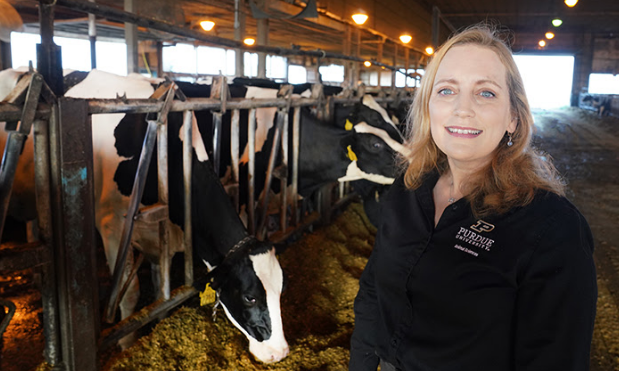 News Release
WEST LAFAYETTE, Ind. — A team of Purdue University researchers has received a $1 million grant from the U.S. Department of Agriculture's National Institute of Food and Agriculture to improve feed efficiency and consistency on dairy farms by using automated video analytics systems. The grant is among $9.6 million in recent NIFA investments supporting 12 projects in animal innovation systems.
"Feed costs are the No. 1 cost for dairy farmers. In order to make improvements on feed efficiency, we have to provide feedback to farmers close to in real-time," said Jacquelyn Boerman, associate professor of animal sciences. "If we can improve the consistency of that feed and we know what individual cows are eating, we're going to manage that feed better. That has economic implications for dairy farmers."
The dairy industry aims to become carbon neutral by 2050 via various approaches, including modifying the environment of the cow rumen and managing manure to reduce methane emissions. Boerman's team will focus on enhancing dairy cow efficiency by providing them with consistent feed and measuring how much they eat.
A cattle nutritionist, Boerman will assess feed composition for consistency, which improves their milk production. Amy Reibman, the Elmore Professor of Electrical and Computer Engineering, will handle the video recording logistics and data analytics.
The researchers will carry out the initial testing phase primarily at the Purdue Dairy Unit. "We hope that it will have applications for commercial farms afterward," Boerman said. The project has letters of support from the Indiana Dairy Producers and from farm nutrition companies.
The collaboration began with an internal 2022 proposal that led to funding a project between faculty members in the College of Agriculture and the College of Engineering. The new project also extends the work of Matthew Rogers, who received a doctorate in agricultural and biological engineering from Purdue in 2022. Rogers used stereovision to measure the volume of granular agricultural materials.
If successful, the project will make it possible to measure feed intake on a per-animal basis in group settings. "To date, we have only measured output per animal and have inputs aggregated per group," said Buckmaster, who is also the Dean's Fellow for Digital Agriculture.
Buckmaster is excited to blend early career work on forages, feeding, total mixed ration (TMR) for dairy cows, and particle size with his more recent work in digital architectural data pipelines.
"The ability to know that each batch is uniformly blended without tremendously tedious and expensive sampling will also be of great value in TMR situations," he said. His role will include assisting with the TMR uniformity experiments and feed characterization.
"I expect there will be some analysis and modeling needed to go from raw bulk volume measurements to per-animal intake, too. That will involve density and moisture content aspects as well as appropriately dividing feed disappearance when cows are side by side," he said.
The project's video analytics component will be designed to enhance understanding of the visual data that farmers depend upon for decision-making.
"Farmers are trained to make a lot of decisions based on things that they see," said Reibman, who specializes in video analytics for animals. "I'm an engineer. I want to solve problems. We should be able to design a system that can augment their abilities.
"We would like the system to be effective in an operational farm, and operational farms sometimes have harsh visual environments: bad lighting, dust. I call it shmutz in the air that gets on your cameras."
The team's guiding principles are to obtain the data they need with the placement of cameras and other equipment that dairy farmers will not have to work around.
"This notion that 'it has to work the way it is' instead of 'can we change the environment so that it'll work' is fascinating to me," Reibman said.
Pfeiffer, who leads the project's social science team, specializes in upstream, dialogic, and coproduction communication models. "That means we're engaged upstream in research as the technology is being designed," Pfeiffer said. "And coproduction means that we're taking feedback from stakeholders."
For this project, farmers, nutritionists, veterinarians and industry representatives will share feedback with the engineers and the scientists as they're designing these camera systems to improve feed efficiency.
"We're frequently seeing technologies that are being developed to improve life often introduce costs, risks and challenges to the end user that are not often anticipated," Pfeiffer said. And that can result in resistance to the technologies.
The social science team also includes Professor Mark Tucker and PhD candidate Rob Weiner, both in the Department of Agricultural Sciences Education and Communication.