Local Gold Star Families were honored during a dedication ceremony at the Kosciusko County Courthouse Tuesday morning.
The event was put together by Kosciusko Honor and Remember, who through recent private donations, was able to make an addition to the Kosciusko War Memorial to honor those area families who have lost a loved one during a war or time of conflict.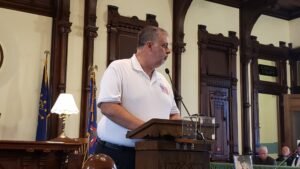 Ken Locke read what is now etched onto the memorial, "Freedom isn't free. Kosciusko County expresses eternal gratitude to Gold Star families whose love one paid the ultimate price defending the United States of America. Their sacrifice will not be forgotten."
Locke also spoke about his time growing up in a household with a military background. His mother was a "Rosie the Riveter," who made submarine parts in a manufacturing facility for 12 hours per day. He also recalled one of his best friends growing up, who was killed in Vietnam during the fall of Saigon. "I had the privilege after that of spending time with his parents until they died. I saw the pain and agony that a Gold Star Family carried and how much they missed that loved one. It's a huge price that we ask people to give for the freedoms that we have."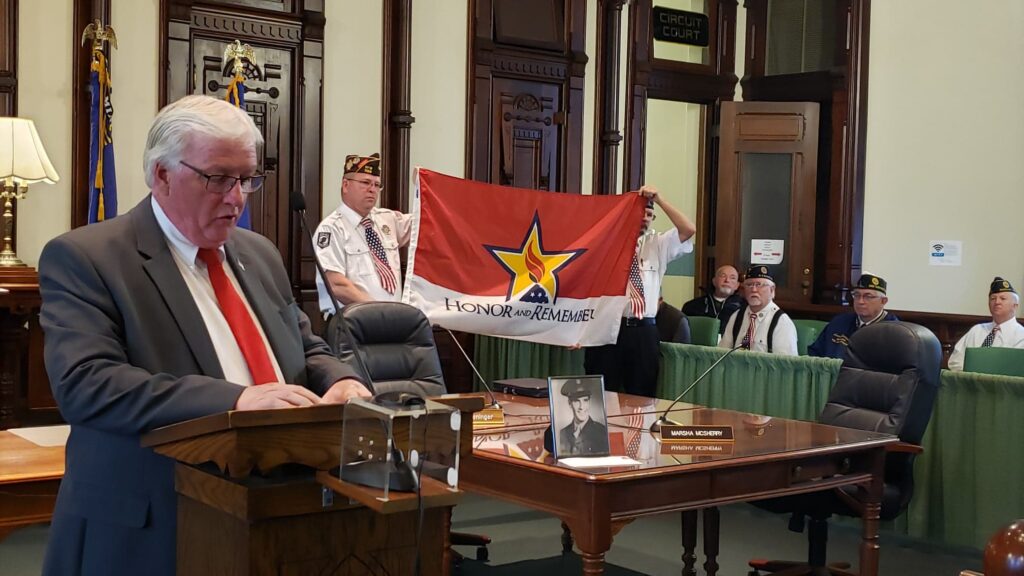 Bob Conley gave a story about his uncle Elbert Conley, who lost his life fighting in World War II. Conley brought along a picture of his uncle, which he said hangs in his barber shop over his chair, and thanks God for his uncle setting an example and "in remembrance of all of our young people who gave their lives in battle." He then went on to read a letter that was from General Douglas MacArthur sent to Elbert's mother that informed her of his death in the war.
Members of the Warsaw American Legion performed a 21 gun salute and played Taps at the end of the ceremony.