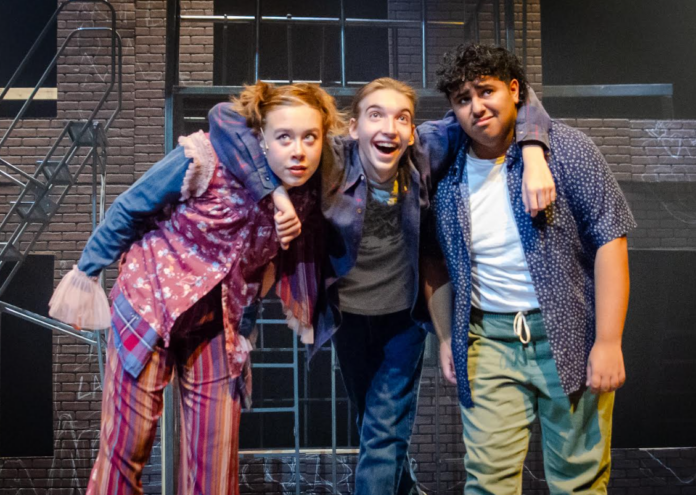 News Release
WARSAW – In the heart of our community, a theatrical gem is set to grace the stage, touching the lives of all who attend with its powerful message of love and courage.
"My Heart Says Go," a new musical that will capture the hearts of audiences, is now being brought to life by the Warsaw Community High School Theater Department. This remarkable show is not just a performance; but a heartwarming experience that celebrates the beauty of following your heart.
Performances are set for November 3-5, at the Warsaw Performing Arts Center, 1 Tiger Lane, Warsaw. Friday and Saturday evening shows begin at 7 p.m., with matinees scheduled for 2:30 p.m. Saturday and Sunday.
Tickets are $15 for adults and $10 for students/senior citizens. The Box Office may be reached at (574) 371-5040. Hours from 7:30 a.m. – 3 p.m. Monday-Friday. Tickets may also be purchased online at Warsaw Performing Arts Center.
"My Heart Says Go" is a musical that has its roots in the humble yet passionate world of Indiana theater. It was created by then-Notre Dame student Jorge "Jay" Rivera-Herrans and University of Notre Dame musical theater professor and director Matt Hawkins.
The WCHS Theater Department is the first high school in the country to produce the musical.
At its core, "My Heart Says Go" is a story about the power of following one's heart and the enduring nature of love and dreams. It's a celebration of risk-taking and the power of persistence. The story follows a first-generation college student named Indigo, who defies his father and drops out of medical school to pursue his dream of becoming a singer-songwriter.
The starring role is played by senior Joel Montoya.
"Indigo is going to med school, but deep down really wants to perform, he's a dreamer," he said. "That really speaks to me because I'm also a dreamer at heart, someone who would rather take a risk than be stable in my life."
Indigo is joined on his journey by a new friend, Clara, who has her own struggles. The role of Clara is played by sophomore Shannon Smith.
"She's running away from home, but also life," she said. "She ends up as Indigo's best friend, but they couldn't be more different."
This heartwarming musical is more than just a show; it's an emotional journey, a celebration of the human spirit, and a testament to the boundless capacity of the human heart. Whether you are a lover of musical theater, a seeker of inspiration, or someone simply looking for an unforgettable evening, "My Heart Says Go" is a must-see event that will leave you feeling uplifted and empowered.
The production contains thematic elements of serious topics, some of which are familiar to high school students.
"Indigo has some pretty severe panic attacks throughout the show," Montoya said. "I'm so thankful that I don't struggle with that, but it means a lot to me to respect those who do. I worked hard to make those moments as accurate and believable as possible. As an actor, you don't get a lot of chances to be vulnerable on stage, and playing this character has allowed us to grow as actors and as people.
Smith agreed.
"These are real people with real problems," she said. "These are everyday situations that we encounter at school, and they need to be talked about more. We're doing our best to make that conversation a little easier."
The cast also includes nearly twenty other WCHS students on stage, with an additional dozen or more students holding student-led crew positions. The production is directed by Melany Morris and Lawrence Evans.
"My Heart Says Go" transcends the confines of a typical musical and becomes an emotional journey for both the cast and the audience.
Popular songs from the production include "Won't Give Up," "What Does My Heart Say," and "Find Your Voice."
Montoya said his experience in this production has taught him some pretty important life lessons.
"If you don't love yourself, then how are you going to love anyone else," he asked. "Once you find that self-love, everything around you will be filled with the same amount of love."
Smith shared that throughout the production, she has learned more about empathy.
"I'm not personally dealing with a lot of the problems that my character is, but it's taught me how to recognize them better," she said. "It really opens your eyes to the hidden problems our friends might be going through that you can't even see. We need to all be more compassionate."
"My Heart Says Go" is made by arrangement with Matt Hawkins and Jorge Rivera-Herrans.