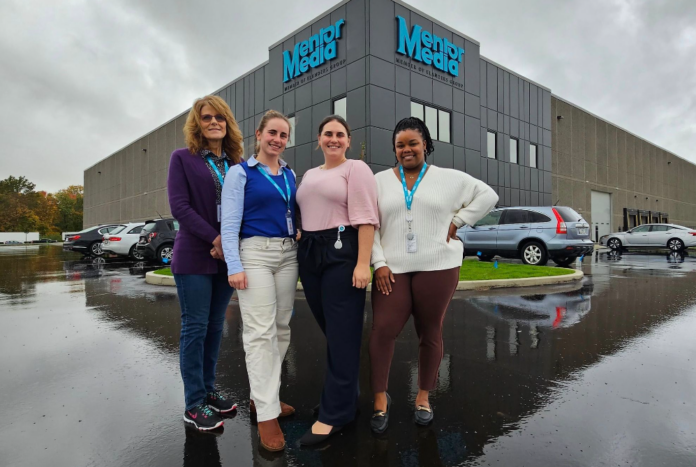 By Dan Spalding
News Now Warsaw
WARSAW — Warsaw's newest orthopedic-related company is set to open later this week and expects the number of employees it employs to grow quickly.
Mentor Media, an international company headquartered in Singapore, provides supply chain management solutions. They already have a footprint in California but chose Warsaw as its second location in the world for its high-tech sterile packaging operation that promises to provide medical device companies a ten-year shelf life for its products.
The company announced plans to construct a plant earlier this year and is counting on serving local medical device companies at its new facility in the Warsaw Technology Park along U.S. 30. 
The first handful of employees began a few weeks ago in the expansive 30,000 square foot facility that is essentially a large warehouse with a rectangular clean room designed for sterile packaging located in the middle.
The company said they've already received lots of job applications and expressed coincidence connections with local orthopedic companies will bring about future contracts. At the same time, they're not making any predictions about how many positions will open up in the company.
"For the future, we're optimistic that we'll grow quickly," said Rachel Rozow, program executive for the company.
She's one of the first four employees who began working with the company in Warsaw a ew weeks ago.
Others include: Jamei Boyer, human resources director; Elizabeth Rozow, process engineer and Daiana Azor, operations lead.
Boyer is from Nappanee. Rachel and Elizabeth (sisters) spent much of their youth in the Milford-Syracuse area before moving in Illinoi. Azor is from Haiti but has worked in Warsaw for eight years, previously for an orthopedic firm.
Many of the future jobs will involve warehousing and working in the clean room. The company is looking for employees who are meticulous, are good problem solvers and understand the utmost importance of cleanliness.
Like many packaging facilities, they rely on an intense use of gowns to ensure product safety.
While the work environment is expected to be pleasant, "On the flip side (is) understanding of the severity that human lives could be at risk if we take a misstep," Rozow said.
Mentor Media is the fourth orthopedic-related firm to move into the tech park in the past seven years. Others include Banner Medical, Nextremity Solutions (later acquired by Medartis) and AutoCam, which is moving into the space occupied by Medtronic.
A grand opening is set for Thursday.
You can learn more about job opportunities at mentormedia.com.