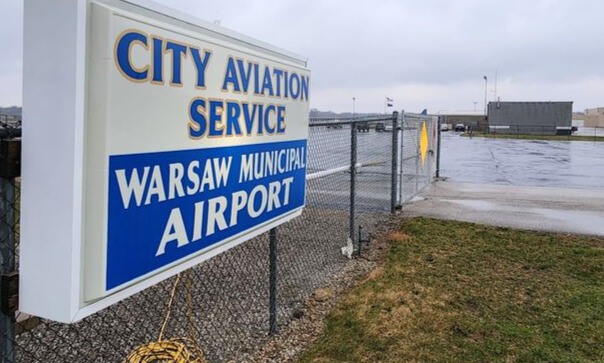 By Dan Spalding
News Now Warsaw
WARSAW —  Warsaw Municipal Airport's plans to lower power lines on the east end of the east-west runway have been delayed.
Construction was set to begin this summer, but the project has been pushed back a full year.
Airport Manager Nick King told aviation board members on Tuesday that it was a combination of issues.
"They did say one of the big issues that they had was just getting the actual towers built. Those lead times are over 13 months now. They used to be three to four months, and so just getting shop time with the manufacturers to actually build the towers is becoming increasingly difficult," King said.
Another factor involves a sign-off from the U.S. Department of Energy that involves American Electric Power, the Federal Aviation Agency and the city of Warsaw.
"It's a scheduling issue as well because it is a part of the national power grid," King said. "It's unfortunately a complicated process that's going to take a little more than we originally foresaw."
Officials now believe the project that involves constructing six new towers and removing three old towers will begin in July of 2024 and be complete within a few months.
The cost of the project is $7.6 million. The city's share will be around $350,000, King said.
King said he does not think the delay will affect the project's cost.