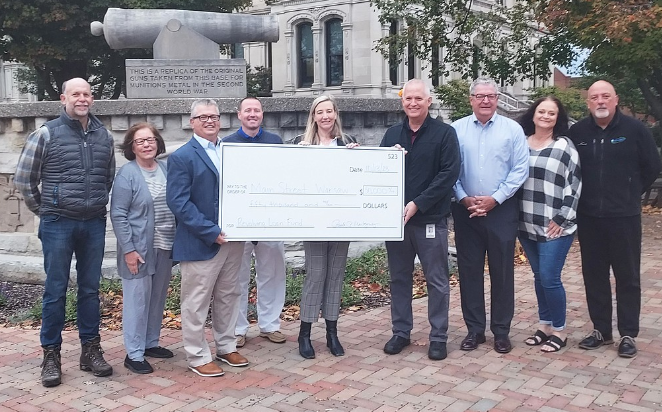 News Release
WARSAW — LSC Print Solutions, an industry leader in American printing, donated the entirety of its interest as a participant in the Warsaw Community Revolving Loan Fund to Main Street Warsaw.
The donation, totaling $50,000, will continue to support programs and growth initiatives for the Warsaw community, according to a news release from LSC Print Solutions.
In June, LSC Print Solutions (formerly RR Donnelley) announced its exit from the gravure printing business, resulting in the closure of the local printing facility after 65 years in the Warsaw community.
The once-booming gravure printing industry – which produced such iconic titles as the Sears Catalog and the Toys-R-Us Thanksgiving Toy Guide – has been in steep decline for years, with many remaining publishers converting to the more common offset printing process, the news release said.
Throughout its long history in Warsaw, the company's dedicated team members have continuously enriched the community through volunteer service, educational outreach and environmental sustainability efforts. The company views its $50,000 legacy donation to Main Street Warsaw as a means to continue its long-standing tradition of giving, long after the doors close on this chapter in American printing, according to the release.
LSC Print Solutions President and CEO Paula Montgomery said, "On behalf of LSC Print Solutions, I would like to say how pleased we are to be able to make this donation to Main Street Warsaw. We are excited to know that our legacy will live on here in the community, as the funds continue to support local revitalization and growth.
"Our employees have shown remarkable resilience, demonstrating their passion and loyalty to this company and their community. Their commitment to excellence serves as a source of inspiration for all who have the privilege of working alongside them. This donation is a way to honor their hard work."
Montgomery also said, "Closing the plant was a difficult decision but, as always, our Warsaw team members handled it with unwavering professionalism and dedication. They continued to deliver quality work right down to the very last catalog that left the plant. This is a powerful example of what new employers will find here in Warsaw. When you combine our high-caliber workforce with the economic development work of Main Street Warsaw, it's easy to see that this is a great place to do business. We hope this funding helps to get that message out."
Nathan Conley, Main Street Warsaw Board member and vice president of Lake City Bank, emphasized the significance of this contribution.
Conley said, "LSC has been an exceptional community partner in numerous ways for many years. This generous donation will continue to bring about a positive impact on the community both visually, socially, and economically."