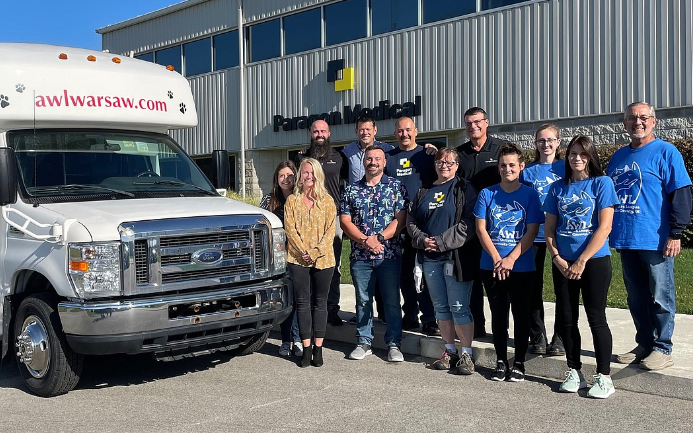 News Release
WARSAW — Pet-loving employees at Paragon Medical held a three-day "Stuff the Bus" donation event for the nonprofit Animal Welfare League of Kosciusko County.
This three-day event included Paragon's Fall Family Festival that included hot dogs, ice cream, hayrides, games for kids and AWL shelter pets. Two dogs were adopted at their event, according to a news release from the AWL.
A bus load in donations, including cat and dog food, laundry detergent, along with large variety pet supplies, were donated by their employees. Paragon employees noticed a bad tire on the AWL bus while at their campus and had a new tire put on and filled the gas tank.
"We've experienced 14 weeks in a row with over 400 pets in our care. As you can imagine, this takes a toll on our budget. AWL must fundraise to support our nonprofit shelter that many cats and dogs of Kosciusko County temporarily call home," said AWL Executive Director Tonya Blanchard.
"The stuff the bus program is a wonderful way for a business to help us out with the supplies we need to keep going. Paragon Medical's 'Stuff the Bus' event brought in an amazing amount of donations for our furry family. We can't begin to thank them enough!"
"The Animal Welfare League offers an amazing service to our community. The passion of their team, to support the many animals that depend on their services, is inspiring to say the least, in which our Paragon Medical family was equally excited to support!" said Dan Blum, vice president and general manager, Paragon Medical.
"We are so very thankful to the amazing group at Paragon Medical for their kind and generous hearts supporting the shelter pets at AWL" said John Lantz, AWL Board president "We were also grateful that we were included at their Fall Family Festival. What a wonderful partnership to have."