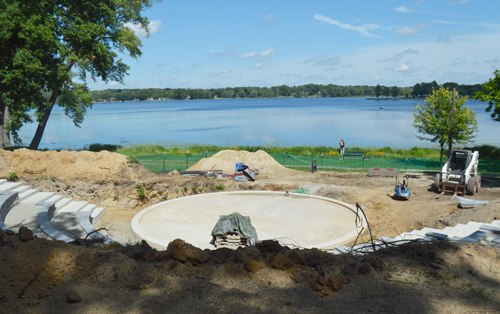 Construction of the new amphitheater at Lucerne Park in Warsaw is moving along well, according to Warsaw Parks and Recreation Dept. Superintendent Larry Plummer.
The tentative completion date for the contractor on the project – Roche Constructors Inc. – is mid October. After that, park laborers will then go in and work on the seating, strawing for the grass and ornamental lighting. A ribbon-cutting ceremony will take place in the spring.
"It will be a great addition to the parks," Plummer said.
As of Tuesday, Roche still had to complete concrete, handrails, pavers and earth work.
Plummer said the Parks Department put some information about the amphitheater construction on Facebook Monday and had about 200 inquiries. Once finished, the amphitheater, which overlooks Pike Lake, can be rented for weddings, services, family gatherings and other special events.
At the July 5 Board of Public Works and Safety meeting, the sole bid on the project was awarded to Roche Constructors Inc. for $208,700. Then a change order for the project to eliminate the top two rows of seating was approved, reducing the project scope to $166,751. The bid had came in higher than what had been set aside for the amphitheater.
The amphitheater will seat 150 people. That will increase in the next few years if the Parks Department is able to fund the additional two rows of seating that were taken out to reduce the project cost for this year.
Plummer said he helped build the old amphitheater in 1984. It was built of wood, including old telephone poles.
He said some day the Parks Department hopes to move the Friday night concerts around to the different parks in the city – Kelly, Lucerne and Central Park – with all the upgrades that have been made to them.