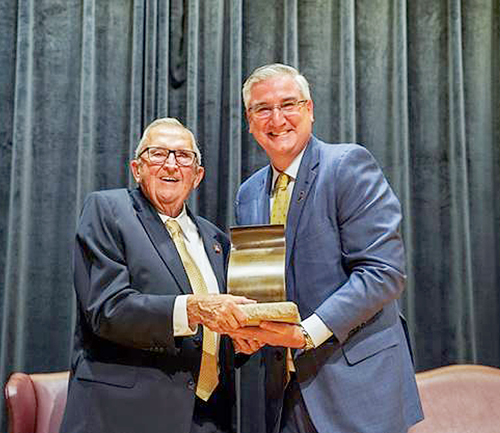 INDIANAPOLIS – Gov. Eric J. Holcomb on Tuesday presented Hoosier humanitarian Dr. George Rapp with the 2019 Sachem Award, the state's highest honor, during a ceremony at the Indiana State Museum.
Rapp, of Lake Wawasee, has been a medical pioneer, champion of education and supporter of the arts throughout his life, according to a news release from the Office of Governor Holcomb. The Sachem is given annually to recognize a lifetime of excellence and moral virtue that has brought credit and honor to Indiana.
Rapp is the third Sachem honoree named by Holcomb.
"Dr. George Rapp has helped make his hometown, our state and the world a much better place to live through his devotion to the arts, education and medicine," Holcomb said. "You would be hard-pressed to find someone who has made the kind of impact he has in so many different fields."
First lady Janet Holcomb announced that Rapp would be this year's recipient during the Hoosier Art Salon's 95th Annual Exhibition Preview Event Thursday evening at the Indiana State Museum. Rapp, a longtime supporter of the salon, served as a co-host of the event.
Previous recipients of The Sachem include Holocaust survivor Eva Mozes Kor (2017), Rev. Theodore M. Hesburgh, president emeritus of the University of Notre Dame and world statesman (2006), and long-time businessman and civic leader P.E. MacAllister (2014).
An orthopedic surgeon, Rapp practiced for 35 years, serving the majority of that time as chief of orthopedic surgery and the orthopedic residency program at St. Vincent Hospital, clinical professor of Orthopedic Surgery at Indiana University School of Medicine, and director of the Scoliosis Clinic at Riley Hospital for Children. In those roles, he treated a countless number of patients, including numerous children with scoliosis, and helped train many orthopedic surgery residents.
Rapp invented a hip prosthesis for total hip replacement and helped found Sofamor Danek, now a division of Medtronic, one of the world's largest manufacturers of spinal instrumentation.
He has provided college scholarships to graduating seniors at New Harmony High School, been a lead fundraiser for the Indiana University School of Medicine, worked with the Indiana University Kenya program to supply volunteer orthopedic surgeons to help further orthopedic education in Africa, and been instrumental in developing surgical suites and housing facilities at Moi University in Eldoret, Kenya.
Since his retirement, Rapp has devoted his life to numerous philanthropic efforts, working with such groups as Crossroads of America Boy Scouts, Indiana Historical Society, the Indiana State Museum and Indiana Landmarks. A proponent s of the arts, he helped start the New Harmony Hoosier Salon Art Gallery and the annual "First Brush of Spring" New Harmony Paint Out, now in its 21st year, and helped restore the Ravine Garden at Newfields in Indianapolis.
He and his wife, Peggy, now live in Indianapolis. His life motto is "Do all the good you can, in all the ways you can, for all the people you can, for as long as you can."