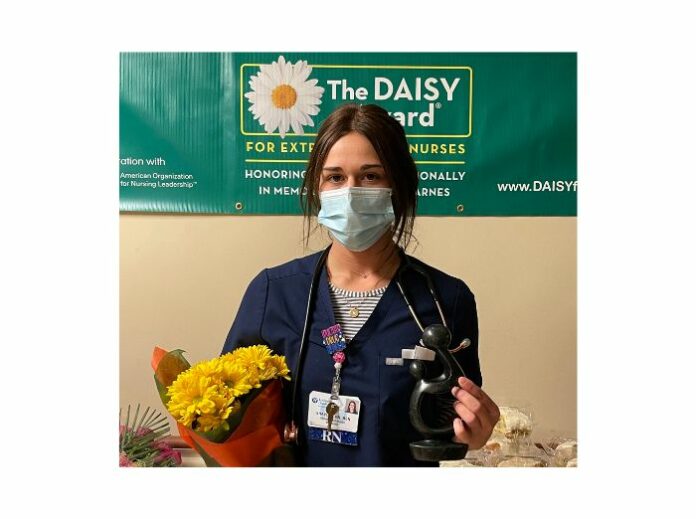 News Release
WARSAW  – Lutheran Kosciusko Hospital is recognizing the latest nurse to receive the DAISY Award for going above and beyond in providing compassionate care.
Shaylee Kelly, a registered nurse at LKH, was recently nominated by a patient's family member for the DAISY Award. Patients, families and colleagues can nominate nurses for this award from any Lutheran Health Network hospital, RediMed or MedStat urgent care clinic or Lutheran Health Physicians practice.
The patient's family member wrote: "Shaylee was excellent at communicating with my elderly grandma. She took the time to make sure my grandma understood what was said and to communicate what she was going to do before doing it. She let the family know even little details and answered any of our questions without rushing. Shaylee stayed on top of everything and exceeded our expectations. The family felt relaxed and comfortable with her."
The DAISY Foundation is a not-for-profit organization established in memory of J. Patrick Barnes by members of his family. In late 1999, Patrick died at the age of 33 from complications of idiopathic thrombocytopenic purpura (ITP), a little-known but not uncommon autoimmune disease. The care Patrick and his family received from nurses while he was ill inspired this unique way of thanking those professionals for making a profound difference in the lives of their patients and their families. Learn more at lutheranhealth.net/daisy-award-nominations.

Lutheran Kosciusko Hospital is a 72-bed facility with all-private rooms, located on a 30-acre medical campus in Warsaw. LKH is part of the Lutheran Health Network which employs more than 6,000 employees, physicians, and advanced practice providers.