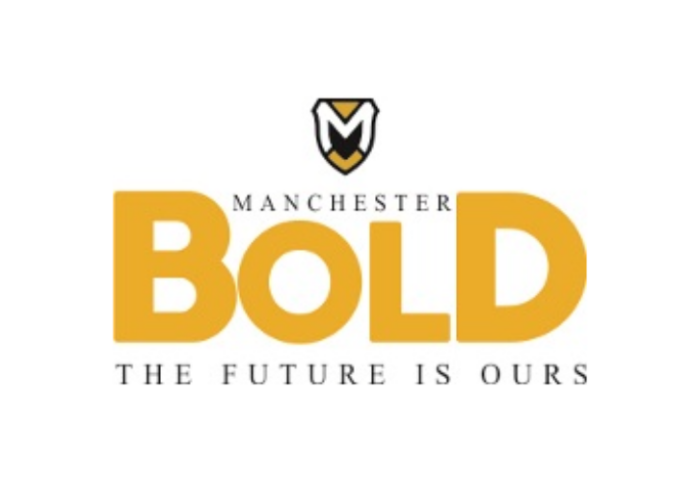 News Release
NORTH MANCHESTER — Manchester University completed a capital campaign two years early and exceeded its goal of $45 million.
When Manchester University began the $45 million Manchester Bold capital campaign in July 2018, officials expected to finish by the end of June – in 2025. By the time the public phase of the campaign began at Homecoming in fall of 2022, however, they had a strong feeling it would end early.
As of Monday, it's officially a wrap at $45.5 million.
"Despite a pandemic shutdown, economic uncertainty and tumultuous times, our generous donors allowed Manchester to complete the campaign a full two years early," said Melanie Harmon, vice president for advancement. "I can't thank you enough for stepping up and giving from the heart."
She credits a strong team effort at Manchester for the successful campaign and expressed gratitude to all who shared their Manchester stories along the way.
"We especially want to thank the caring alumni and friends who saw great need and took action – to those who gave a major gift, then gave again, and those for whom the gift was a stretch. We will honor them by serving our students well and being good stewards of each gift dollar," she said.
The impact is already being felt:
Thirty new endowed student scholarships were established.
Manchester launched nursing programs, with a traditional four-year Bachelor of Science of Nursing (BSN) track and the 16-month accelerated BSN track for those who already have a bachelor's degree in another field.
The new Spartan Pride Marching Band revived a proud Manchester tradition.
Beginning this fall, Manchester offers a two-year, online master's degree in nutrition and nutrigenomics, combining education to qualify those who wish to become a Registered Dietitian Nutritionist with cutting-edge science that studies the relationship between an individual's genes and how they affect their response to food and nutrients.
Nearly $11 million was raised for The Manchester Fund, which bridges gaps and addresses unexpected needs so the University can focus on teaching and learning while also handling day-to-day realities. When students have higher-than-average financial need or experience cuts in government aid, The Manchester Fund can help. When a roof springs a leak or an air conditioner breaks, The Manchester Fund is there.
Women's varsity wrestling program is recruiting for Fall 2024.
The Marvin L. Bittinger Department of Mathematics and Computer Science was named. A donation from Marvin '63 and Elaine Sailors '64 Bittinger supports student learning, research and faculty development.
The Harry H. Henney '35 and Jeanette Henney Department of Education was named through a donation from Dr. Jane Henney '69 and her spouse, Dr. Robert Graham. It supports such things as education research and off-campus study for students.
Dr. John Hamer '48 and Esther Rinehart '50 Hamer established an estate gift to create the John L. and Esther L. Rinehart Hamer Professorship in Music.
The new Manchester Chime tower, an initiative that started with the Students First! capital campaign that ended in 2014, was built in 2022 with a boost from the Bold campaign.
There were 36 new planned gifts. A planned gift is made during a donor's lifetime or at death as part of their financial or estate planning.
Some of the money is going toward furthering Manchester's culture of diversity, equity, and inclusion.
Spartan Stadium was completed in 2021, combining gifts from the Manchester Bold and Students First! campaigns.
Although Manchester has now officially closed the books on the Bold campaign, it will continue the initiative to renovate Otho Winger Memorial Hall, home to the music and visual arts programs. So far MU is at 60 percent of its $5 million goal to bring the 1952 building into the 21st century, adding virtual-learning classrooms and flexibly configured studio and classroom spaces to foster collaboration and creativity.
The renovation will add central air conditioning and replace the building's steam heat. An elevator and other changes will make the building ADA compliant.