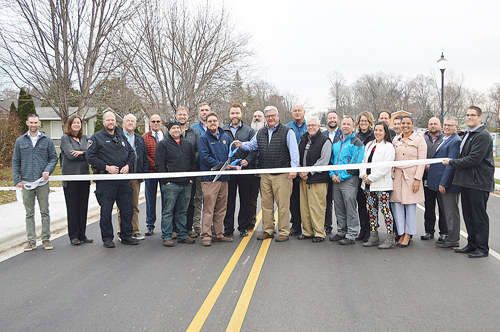 Mayor Joe Thallemer and Warsaw City Planner Jeremy Skinner were among the people participating in the ribbon cutting from Hickory Street to Bronson Street Tuesday.
The ribbon cutting was celebrating phase two of a plan to improve connections to downtown Warsaw.
Phase one was from Bronson Street to Argonne Road.
Skinner said phase three is in the preliminary stages of planning.
The whole plan includes such things as bike lanes.
"We're connecting neighbors, we're connecting neighborhoods, parks, schools," Thallemer said. "We've now got that connection from the town of Winona Lake to our city downtown and we've got a fabulous connectivity through the neighborhoods. We've got lights that illuminate the way for kids that make us a little safer, a little bit more peaceful neighborhood."
Thallemer said this is a community project.
Representatives from the Indiana Department of Transportation, the Village at Winona, the Chamber of Commerce, the Warsaw Police Department and the Warsaw Planning Department joined Thallemer and Skinner at the ribbon cutting.