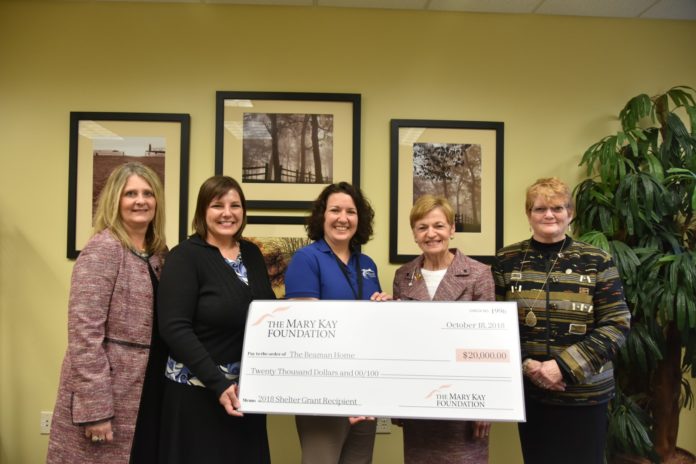 In support of Domestic Violence Awareness Month, The Mary Kay Foundation announced it is awarding $3 million in grants to 150 domestic violence shelters across the country.
The Beaman Home has received a $20,000 unrestricted grant to support local survivors of domestic violence in Kosciusko, Fulton, and Marshall Counties. This year's distribution brings the Foundation's total investment in its shelter grant program to $50 million.  
The Mary Kay Foundation was established in 1996 with the overarching purpose of supporting issues impacting women. In 2000, The Foundation expanded to include ending domestic violence as part of its mission. The Foundation is committed to funding the life-saving work of women's shelters and the annual shelter grant program has helped finance critical needs including emergency shelter, transitional housing, counseling and legal aid. All of these resources support women and children as they seek refuge and relief on their journey to an abuse-free life. This year, more than 1,200 organizations applied for the Mary Kay Foundation shelter grants.
"At Mary Kay, we believe in helping women improve their circumstances and live their best lives. One in three women will experience domestic violence in her lifetime and it is our responsibility to support the women's shelters that aid these survivors," said President of The Mary Kay Foundation Board of Directors Michael Lunceford. "At the heart of The Foundation's work is the shelter grant program which is actively supported by our independent sales force. We're proud that our commitment makes such a powerful impact in local communities and in the lives of domestic violence survivors across the country.
"The Mary Kay Foundation thinks so highly of the mission of the Beaman Home that over the years they have donated a total of $60,000 to support their mission," says local Mary Kay Consultant, Karen Long.  "The Beaman Home does great work, and the local consultants are proud to support them as well."
"We are very thankful for the Mary Kay Foundation and our local Mary Kay consultants for their generosity and for believing in supporting women and their children suffering from domestic violence and wanting to seek refuge in their time of need.," stated Beaman Home Executive Director, Tracie Hodson
Beaman Home has provided services to Kosciusko, Fulton, and Marshall Counties' victims of domestic violence and their children since 1985.  For more information, please visit, www.thebeamanhome.com or find us on Facebook at www.facebook.com/TheBeamanHome, Twitter @Hope4DVvictims, LinkedIn, or Instagram.  If you, or someone you know is a victim of abuse – there is help! Please do not hesitate to contact Beaman Home's Toll Free 24/7 Crisis Hotline at 877-725-9363.