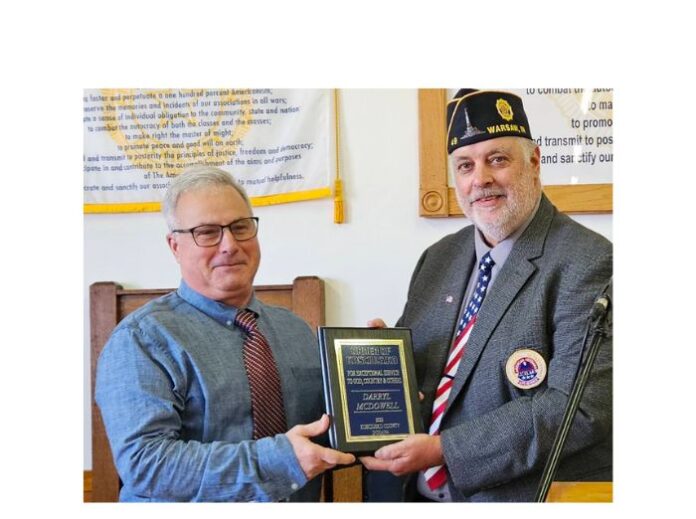 By Dan Spalding

News Now Warsaw
WARSAW — Representatives of American Legion Post #49 honored a vital supporter of local veterans on Saturday at the annual Veterans Day ceremony.
During its ceremony remembering Armistice Day — now known as Veterans Day — The post awarded its Order of the Kosciuszko Award (for exceptional service to God Country and others) to Darryl McDowell, who serves as Kosciusko County's Veterans Service Officer.
Veteran Ken Locke made the announcement, noting that McDowell is not one to call attention to himself.
McDowell was a member of the U.S. Army for 30 years. He worked as a combat engineer and retired as a colonel, according to Locke.
While McDowell was a sure bet to be at the event, Locke made sure of his participation by asking him to serve as the main speaker.
McDowell thanked organizers for the tribute and then delivered his speech, which he said he chose to be more positive than somber.
He compared the 9/11 remembrance to the importance of Armistice Day, which marks the agreement to end the fighting of the First World War (and a prelude to peace negotiations), which began at 11 a.m. on Nov. 11, 1918.
"It's the day the guns went silent in World War I on the western front in 1918 … it's also a joyous and happiness of folks realizing that their loved ones may be returning to them in a short amount of time and that there would be no more blood loss," McDowell said.
Organizers stood quiet for a moment of silence at 11 a.m. and the Honor Guard rang a bell  to honor and remember all veterans.
Also honored were members of the Warsaw Community High School ROTC cadets — Jayden Cunningham, Talia Kelley, Nate Anderson and Samuel King.