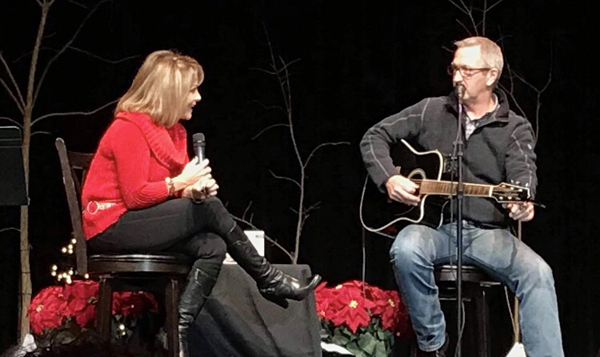 TIMES UNION REPORTS – A phone interview with Christian music singer Susie McEntire and country music artist Linda Davis Tuesday, Nov. 9 could have taken place in one of their living rooms, though they were hundreds of miles apart.
They asked each other about the weather, how they were doing and McEntire mentioned that the day before was her birthday.
"Yesterday was my birthday, everybody. I turned 46 if you're dyslexic," McEntire joked. "Mark (Eaton, McEntire's husband) took me out of town and we just got back a few hours ago, so I'm still vacating a little bit."
Davis told McEntire she deserved it and should drag it out.
"That's true," McEntire agreed before moving the conversation back to the purpose for the three-way call.
A Country Christmas with Susie McEntire to benefit Toys For Tots is returning to Lakeview Middle School. Doors open at 6 p.m. Dec. 11, with the concert starting at 7 p.m. It is free but everyone is asked to bring a new, unwrapped toy for a donation.
Davis also is returning, having first joined the annual event in 2020. Another special guest this year is Keenie Word Moore.
"I just want everybody to know that Mark and I are looking forward to it so much. We had a great time last year and just so enjoyed Linda and Lang (Scott), and what they brought to the stage and the comradery. I hope there's even more of it this year. I hope we can collaborate on a couple more songs. I think that would be really cool," McEntire said.
"I think that is a perfect thing and, Susie, that would be like a Christmas gift to me, to get to sing with you," Davis said. "It'll be a pleasure."
Davis said having four friends on stage – Davis, Scott, Eaton and McEntire – who admire each other's work, love each other and who all love Jesus is "just a party. It's just a reunion, and the goal is for that love to be able to be felt from the audience, back and forth from the stage to the audience."
McEntire said Christmas is a very special day, but, "We put so much pressure on ourselves to perform for the holiday that we're worn out. I want people to come into that auditorium and relax and be able to take a breath. And to be reminded that it's not about the 18 dozen cookies that you cook or the meals or the preparation of the presents. … Jesus came as a plain person to be the king and the savior of the world and nothing that they expected. They thought he was going to come in as a king, but he came in as a servant."
She said we've got to remember that it's all about Jesus and our love for each other.
"That's what I want to portray on that stage," McEntire said.
"And you know what?" Davis said. "Nothing can help make that message get through like music. You can talk about it, you can preach about it, but there's something about music, melodies, harmonies and song lyrics that sometimes that will penetrate where some of those other things just don't get through. It's not that those other things aren't important, but music just helps people, I believe, to get in the mood and the mindset to take it in. And what we want is for the message of so many of the songs to do exactly what Susie said – just remind people that Jesus is the reason that we have a Christmas, and we celebrate Christmas and it doesn't have to be fancy and uptight and stressful if we decide not to let it be."
When people come to the Dec. 11 concert, she said they want the audience to leave all their stresses and worries outside and relax. And, hopefully, Davis said, not pick them back up when they do leave the concert.
"Right. Don't be so intwined into the season that we forget the person next to us. The greatest gift of all is to be kind and generous and thoughtful toward others," McEntire said.
Davis said McEntire has so many songs that gets that message out there that her songs don't even have to have the word "Christmas" in them. "Because, again, when you get down to the part of this story that matters, it's the Lord, and all of so many of Susie's songs reminds people, and draws people and point people toward the Lord. So, you pick one off her playlist, it's going to be good," Davis said.
McEntire said she loves it when Davis is in front of her piano and "she just stops and she talks to people, in her very beautiful and simplistic way of proclaiming the truth. And, it's simple and Lang is right there with his big ol' smile looking at her and adoring her. What an example of Christian love and support right there."
Davis said that's the same as when McEntire and Eaton are performing on stage together.
"I guess that's another part of our wish is that we can celebrate family, and we can celebrate each other and it's not necessarily something wrapped up with a bow on it. It lives within us and what we do and what we share with others. That's the real gift when you give something, you're really the one getting it because it feels so good," Davis said.
Since the 2020 Country Christmas, McEntire got to host "Jesus Calling Stories of Faith" from the worldwide devotional "Jesus Calling" by Sarah Young. She introduced the speakers for 12 episodes of the show. She's also gotten the opportunity to be the spokesperson for Young's new book, "Jesus Listens," so she's doing a lot of press for that.
Davis said she was grateful that the world has started to open back up since the last Country Christmas concert so she and Lang can go back out and do their shows.
"Goodness, to get on stage again and to share our hearts with our audiences, it's just the lovefest of all lovefests, because I think they're just as hungry and thirsty for it as we are," she said.
McEntire said the world needs music. "If there was anything that they took away that they shouldn't have, it's music, because music is hope."
Davis said music is of the Lord and it's a gift from him.
Along with Davis, another special musical guest for the Dec. 11 concert – Keenie Word Moore – is someone McEntire said she about raised.
"Keenie Word is the daughter of Kelli Word, who I first met Kelli when our husbands were rodeoing in the '80s and Keenie grew up right outside of Rapid City, South Dakota, and all she wanted to do was get up in front of people and sing. So that is what she has done predominantly," McEntire said. "She's moved to Nashville. She's working in a salon, just trying to make things work until something really hits for her singing, but she's always willing to go and do and she's writing faithfully there in Nashville with different writers. She's beautiful, she's great on stage and she's going to join us on stage there in Warsaw."
Moore will get her own segment of the concert.
For more information on the concert, call 574-376-0193 or visit the website at www.countrychristmaswarsaw.com.
Sponsors this year include Leesburg United Methodist Church, Stookey Construction, Everest Excavating, Bailey Moore Foundation, Windstar Park, Franger Gas, Lewis Salvage, Wishbone Medical, Grossnickle Eye Center, American Concrete Pumping, Deb Patton-Showley Group, Core Mechanical, Blue River Digital, Bishop Farms, Eagle Outdoor Advertising, Wilie 103.5, Times-Union, Allegra, ServPro of Noble and Kosciusko Counties, Snyder Trucking, WIOE, Oldies 101.1, 104.3 and Stereo 1450, Michael Kinder & Sons, Stafford Solid Waste, Robinson Construction, Avalign Cutting Instruments and Fairfield Inn & Suites by Marriott Warsaw.