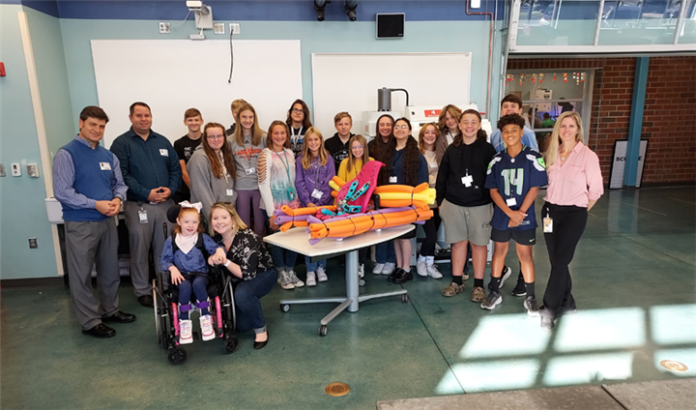 Edgewood Middle School students designed a floatation device for a second-grader at Eisenhower who has mobility issues.
Abbi Richcreek, Project Lead the Way teacher at Edgewood, said creating the device for Addy Hausmann is part of a project for her student project management team class, "which is our homeroom, but I've made it into more of an exploration class." This is the first time the homeroom class has done a project like this, she said.
The purpose of the flotation device is so Addy can go into a swimming pool like everyone else, Richcreek said.
The project came about when Addy's mother, Elizabeth Hausmann, contacted Richcreek over the summer. Elizabeth had tentative plans for the flotation device from another family and gave Richcreek an overview of the plans.  Richcreek was able to get the materials, which were sponsored by Medtronic.
Gregory Sebastian, principal engineer at Medtronic, said Medtronic has a Hispanic-Latino Network and he and Mario Ferrazzuolo, also a principal engineer at Medtronic, are both chairs of that network. One of the missions of the network is to provide community support where they can.
Ferrazzuolo said they connected with Richcreek and she showed them some of the projects she was working on this year. He said he and Sebastian helped the Edgewood students in the design process.
Richcreek has been helpful with creative projects when medical equipment can be thousands of dollars, Elizabeth said. Elizabeth said she thought it could be a good teaching opportunity and knew Richcreek liked to use that type of project to help teach students.
The project was started last week and will be finished hopefully sometime this week.
The device is made of PVC pipe, pool noodles, a chair and straps, Richcreek said.
Monday, Addy tried the flotation device at the YMCA and it works. However, there are some changes she wants to possibly make in order to make the device easier to transport and use, Richcreek said. The device will be used regardless of the weather as Addy and her family also swim at the YMCA.
If Addy is at Elizabeth's brother's house and everyone is in the pool, Addy is on the sidelines due to the depth of the pool. Elizabeth said the device would allow her independence and would allow her to be included in more things.
"And that's ultimately our goal – giving her the same experience as other children without disabilities," Elizabeth said.
Richcreek said she hopes the project shows her students the design process is never ending, revisions can always be made and the person the device is being made for needs to be heard. To her knowledge, there are only two other devices like Addy's.
Sebastian said he hopes more students get interested in engineering from this project.
Student Lilliana Rak said when she heard about the project, she was really excited and it seemed to be a really good chance to get to know Addy and get to develop something to help her feel included.
Student Mason Fitterling said he was really excited to work on the project and hoped the class was be able to do as much as they could for Addy. He also said he hopes he can think more out of the box by participating in the project.
Elizabeth said she hopes Addy is able to get some fun time in the pool and be able to play with her cousins.