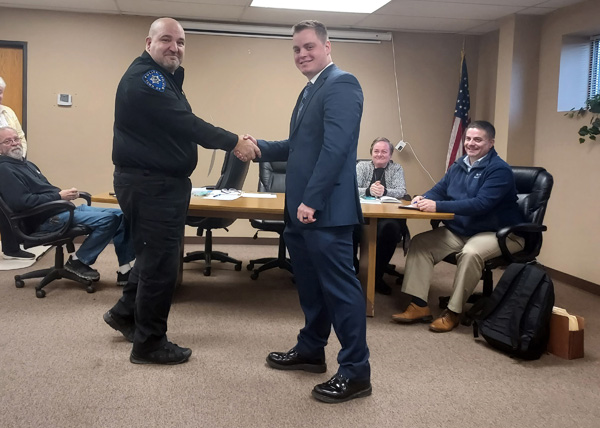 MENTONE – Mentone Town Council Wednesday couldn't decide how much to pay its new deputy town marshal, and will look into the issue of allowing chickens within town limits.
The Council approved the hiring of Jacob Bill and Town Marshal Jim Eads swore him in Wednesday.
Bill said he was previously at the Bourbon Police Department for six months. Before that, he was in National Guard for six years and he was with the Indiana State Police just shy of three years. He is originally from the Warsaw area.
As for pay, the two Council members present at the meeting could not agree on salary.
Councilman Tim Croy said he would like to pay Bill the same as they were going to pay former deputy town marshal Sam Bohnke, which would be $42,766, and then in June re-evaluate all salaries for the town in talks over the 2023 budget.
Eads said he believes that's why the town lost Bohnke as a deputy marshal. He thought the pay needed to come up. He said they went into the search looking at about $46,330, ending with about 10 applicants.
Street Superintendent Josh Shepherd asked why they didn't pay Bohnke that amount.
Councilwoman Shelly Krueger said she would have loved to pay Bohnke that. She said she would agree with the amount of about $46,330 because of Bill's training. It's important to have a good police officer in town, she said.
Krueger made a motion to pay Bill at $46,330 a year, but Croy didn't second the motion. Council President Jill Gross was absent from Wednesday's meeting.
Croy said he was looking at what was approved for the 2022 budget and then the Council could review the salary when they evaluate salaries for 2023 in June.
Krueger said the Council starts talking about the budget in June, which gets approved in October and takes effect in January. She asked how the town is going to accommodate Bill until then.
"So what you're really saying, that you're not really going to talk about what you're going to pay him until next year," Krueger said.
Town attorney Andrew Grossnickle said one thought  was a special meeting would have to be held so all three Council members could talk about salary. Eads said it would have to be set before payday as Bill would start duties today.
No date for the special meeting was set during Wednesday's meeting.
In another issue, Hannah Beliles approached the Council about having chickens within town limits.
She said she was bringing up the idea to the Council due to the increase in egg prices.
Some suggestions she brought up were permits or having a land restriction.
Beliles had previously brought up the idea to the Council in June 2020. At that time, Gross said the issue might be something the Council may have to have open for a while.
Wednesday, Krueger said Beliles brought up some very good points and there are a lot of towns that allow chickens. She said it's something she wouldn't mind seeing.
The Council would have to talk and possibly come up with a policy regarding chickens.
In other business, the Council:
• Heard from Derek Adamson from the Mentone Youth League. The league is looking at an asphalt parking lot between one field and the league building and some sidewalks to join the fields.
He approached the Council for help from the town and have the project as part of the town's projects for the $200,000 K21 Health Foundation grant. The quote he had was a combination from Ault's Concrete & Construction and Nightwalk Excavating for $40,500. About $32,000 was for the asphalt and $8,500 was for the concrete for the sidewalks.
Croy asked if Adamson was planning on doing the project. Adamson said not at this point. Croy said the town still has community meetings to figure out what the town wants to do with the grant money. Adamson said he just wanted to get the ball rolling.
• Krueger read a proclamation where Mentone will claim April as National Child Abuse Prevention Month in Mentone.
Angie Ritchie, of Court Appointed Special Advocates (CASA), explained what CASA did in the community. In 2021, CASA volunteers served 4,200 hours representing 198 children in Kosciusko County.
• Learned spring cleanup will be May 21. Croy said APEX is requesting things to be picked up take up no more than a 4-foot-by-4-foot square in total. Tires, concrete or electronics will not be picked up.