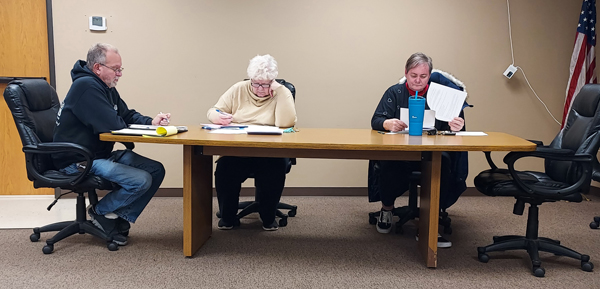 MENTONE – Mentone Town Council approved Wednesday for Town Marshal Jim Eads to start looking for a new deputy.
The application process comes after Sam Bohnke's resignation was approved in December so he could take a position at the Warsaw Police Department.
The Council approved a starting salary of $41,000 without experience and a top salary of $46,330 with experience for the position.
Eads said he will run the application process until Jan. 31. He said it might take the background check process past the February meeting to discuss any applicants, so it might be discussed in March.
Councilman Tim Croy said he met with Rich Heemstra of APEX last week. He said both he and Heemstra have received complaints that people's trash hasn't been picked up. Croy said trash pick-up now starts at 6 a.m. and some people are putting their trash out at 7 or 8 a.m. after APEX has already been in the area to pick up trash.
Croy also said APEX started delivering new canisters for residents last week and it's going to continue until all residents get new canisters or APEX runs out.
Heemstra has ordered a new truck with a mechanical arm that will pick up the canisters and Croy said people that have similar canisters that aren't as strong will be crushed by the mechanical arm once APEX has the new truck. He said residents need to have the canisters provided by APEX to use for trash.
Heemstra said it will be April or May before the truck is ready and that's provided APEX has enough canisters for residents.
Croy said excess bags will not be picked up. Those who think they will need more than one canister, they should contact APEX.
In other business, the Council:
• Learned Eads will work with the Indiana Department of Transportation to figure out where the town wants to put speed signs it got in December so signs can be put up in the spring.
• Learned G&G Hauling & Excavating finished the stormwater project. The section of storm sewer that was fixed is 315 feet of pipe in an alley between Franklin and Walnut streets, south of Monroe and north of Jefferson streets.
• Learned Utilities Superintendent Josh Shepherd talked with the homeowner north of Cornerstone Church.
In December, a complaint was discussed where the church said the property to the north of it has a sump pump that has excess water being pumped into the alley. Councilman Jill Gross said the church complained the water runs across the alley.
Shepherd said he gave the property owner some options and he believes the owner resolved the issue.
• Learned Custom Fencing installed a gate at the treatment plant.
The next Council meeting will be at 6:30 p.m. Feb. 2.