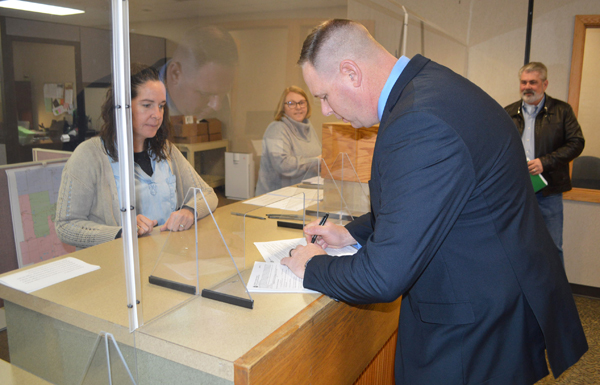 Jim Smith has filed as a Republican candidate for sheriff for the May primary.
He and his wife, Trish, and family are lifetime residents of Kosciusko County. He is a 2000 graduate of Warsaw Community High School and served in the U.S. Army Reserve for 12 years, including a tour of Kuwait/Iraq during Operation Iraqi Freedom in 2003, according to a news release provided by Smith. He has been a full-time police officer in this county since 2007, and joined the Kosciusko County Sheriff's Office in 2011. He was promoted to corporal in 2017.
Smith is president of the Tippecanoe Township Board, a past president of the North Webster-Tippecanoe Township Chamber of Commerce and is a past vice president of the Fraternal Order of Police Lodge #149. He is the current president of the Warsaw Morning Breakfast Optimist Club and is a member and past president of the Leesburg Lions Club. He is a member of North Webster American Legion Post #253, Kosciusko County 4-H Swine Committee, and Clunette United Methodist Church.
Smith will face Republican incumbent Kyle Dukes in the May primary.
The news release states that Smith is running for sheriff for a number of reasons:
? Jail Issues: He continues to hear more and more concerns regarding problems in the jail with drugs, tattooing, damages and fights. The county has had to spend a substantial amount of money to repair damages caused by inmates. One inmate death occurred as a result of drugs getting into the jail.
For Smith, the concern really hit home when he was asked, "Who is running the jail, the inmates or the sheriff?"
As sheriff, he will put standard operating procedures in place to utilize equipment such as the body scanner and make sure staff are trained to use the equipment appropriately, implement the use of a drug detection canine, and implement other standard operating procedures and training for staff to make sure the jail is a safe place for inmates. This can only help to lessen the possibility of lawsuits which end up costing the taxpayers money, the release states.
? Fiscal Responsibility: The current sheriff requested a substantial raise for his salary in his first year as sheriff, a $35,600+ increase from the previous sheriff's salary, which put him as the third highest-paid sheriff in the state of Indiana, according to the release. Each subsequent year, the current sheriff has requested an increase in his maximum approved salary. For July 1, 2021, to June 30, 2022, his maximum approved salary is $164,950.
As sheriff, Smith plans to take a salary that is more in line with how sheriff's salaries have been done in the past, which is more fiscally responsible for the taxpayers of this county. He also plans to work within the approved budgets with minimal requests for additional appropriations.
? Transparency & Availability: As sheriff, Smith will be transparent and available to his staff and to the residents of this county. He will be available for phone calls, appointments and visible in the community.
When choosing his administrative team, he will choose leaders based upon qualifications, not based upon whether they are family members or friends, the release states.
? Program for Veterans: As sheriff, Smith plans to implement a program for veterans that would be designed to help veterans right here in this county struggling with Post Traumatic Stress Disorder and other mental health crises.
? JCAP Advancement: As sheriff, Smith will advance the Jail Chemical Addiction Program, adding more accountability and higher expectations for the inmates in the program.
The release states Smith plans on visiting your town soon. Watch for upcoming announcements about town hall meetings in your area by following him on social media:
? Facebook: Jim Smith for Kosciusko County Sheriff
? Instagram and TikTok: jimsmithforsheriff
? Website: jimsmithforsheriff.com.