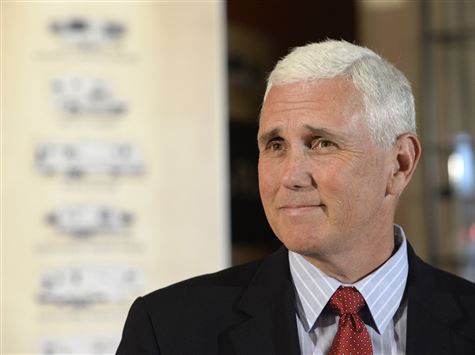 Gov. Mike Pence's office says he's standing by his decision to order Indiana state agencies to stop helping with the resettlement of Syrian refugees despite a federal lawsuit challenging that move.
Pence's office said in a statement Tuesday that the first-term Republican is "confident he has the authority to suspend the state's participation in the resettlement of Syrian refugees in Indiana."
The statement says Pence won't "reverse course" until the Obama administration and Congress "take action to pause this program and implement measures necessary to address security gaps acknowledged by the FBI and Department of Homeland Security."
Pence's office says his action was "to put the safety and security of the people of Indiana first" and that "public safety is not a partisan issue."
Individual states do not have the legal authority to block refugee placement under a federal law.
10:30 a.m.
A nonprofit group that assists refugees and the American Civil Liberties Union of Indiana say they'll ask a judge to put on hold Gov. Mike Pence's order that state agencies stop helping with the resettlement of Syrian refugees.
The ACLU of Indiana has filed a federal lawsuit against Pence on behalf of Indianapolis-based nonprofit Exodus Refugee Immigration.
ACLU of Indiana legal director Ken Falk said he would ask a federal judge Tuesday to prevent Pence from blocking state agencies from spending federal money to provide services such as housing and medical care to refugees.
The lawsuit argues that the U.S. Constitution and federal law prevents states from refusing to accept refugees based on their nationality.
Pence said last week, after the deadly attacks in Paris, that he was concerned about militants possibly infiltrating the United States through the refugee program.