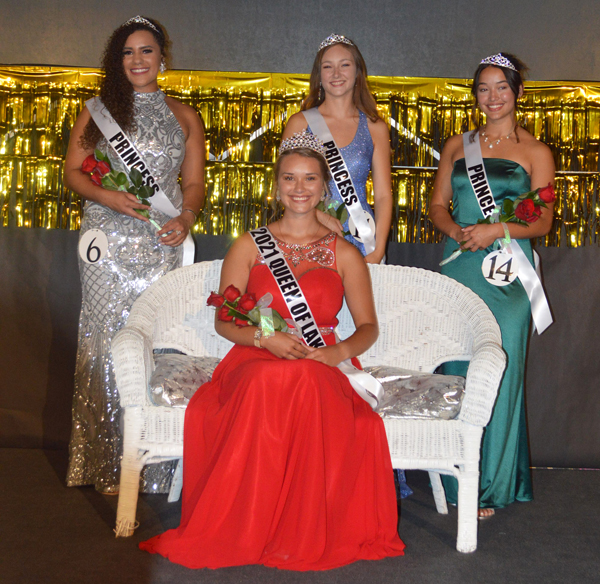 Since 1946, one woman has been crowned Queen of Lakes for a one-year term during the North Webster Mermaid Festival.
After being crowned Queen of Lakes in 2019, Meghan Beer served a two-year term because the COVID-19 pandemic cancelled the Mermaid Festival and pageant in 2020. Her reign came to an end Saturday night as she got to pass the crown on to Coryn Barton, who was crowned the 2021 Queen of Lakes at the pageant in the North Webster Community Center.
Barton, of Huntington, is the daughter of Derek and Amanda and represented Tippecanoe Lake. Her sponsor was TK Family Enterprises.
"Very overwhelmed," she said about winning after the pageant. "It has not settled in yet, but very blessed at the same time. I couldn't have done it without my family and my friends."
She said she was looking forward to serving as Queen of Lakes for the next year and representing the pageant, the North Webster Lady Lions organization and the town of North Webster.
"I'm going to come represent any way I can any time," Barton said.
She competed against 14 other young women. "It was honestly the greatest experience ever. I made so many new friends. I was here all day with them, but it felt like all week. We talked about it all day. We feel like we're definitely life-long friends now," Barton said.
Besides also taking second place in the float award, Barton was named Miss Congeniality, which was voted on by the Queen contestants.
"It was very nice. It was very warm-hearted by them," she said.
Third runner-up went to Chloe Bollinger, of Pierceton, Miss Kuhn Lake. The daughter of Rick and Melissa, she was sponsored by Pierceton Masonic Lodge #377.
Second runner-up went to Kai Jamora, Syracuse, Miss Banning Lake. Sponsored by Carey Excavation and Trucking, she is the daughter of Priscilla Brown.
First runner-up went to Seaquinn Bright, Miss Little Tippy Lake, Syracuse. She is the daughter of Summer and was sponsored by Smart Cabinetry, New Paris.
Saturday night's competition began with the theme wear competition and the individual theme wear judging. As each of the women modeled their attire, a video interview of the girl on stage was shown on the big screen. The videos were produced by Ken Strong Productions. After the ladies went off stage to change into their evening gowns, master of ceremonies and North Webster Person of the Year Phil Metcalf gave a little history of the Queen of Lakes pageant.
"The event is rich in a tradition of wide diversity of past winners who boast of once being the Mermaid Festival Queen of Lakes. To earn that title, each girl participates in four events related to the contest, including personality, parade, theme wear and evening gown," Metcalf said.
The interview portion was conducted Saturday morning, with each girl spending time with the judges in a panel-style interview.
"This process provides an assessment for the contestants' ability to communicate," he explained.
Each contestant was required to participate in Saturday afternoon's parade, with a wide variety on how to participate, with only their imagination their limitation. The theme of the Mermaid Festival and pageant this year was "Through the Years" to celebrate 75 years of the Festival.
The women participated in another friendly competition called the People's Choice Theme Wear Award. There were containers at the pageant with each girl's photo and information. By monetary vote, the pageant audience helped select the winner of the People's Choice Theme Wear Award, which was announced toward the end of the competition. Each contestant retained half of the money given in support of her theme wear outfit, with the other half used by the North Webster Lady Lions in support of their projects.
The 2021 People's Choice Theme Wear Award went to Mikilah Wiggs, of Syracuse, Miss Little Barbee. She is the daughter of Dustin Wiggs and Curtis and Angie Grady. Her sponsor was Kiza Designs. Her theme wear was sports oriented as she loves to play soccer.
After the evening wear individual judging, awards were presented.
Madelyn Zimmerman, of Milford, Miss Waubee, won the Community Service Award. She is the daughter of John and Peg, and her sponsor was North Webster Legion Auxiliary. Barton was then announced as Miss Congeniality.
The parade winners were then announced. Third place went to Kirstin Knox, Ligonier, Miss Papakeechie Lake. The daughter of Kris and Daphne, her sponsor was ERS Wireless Ligonier and she receives $250. Second place and $500 went to Barton. First place and $750 was awarded to Zimmerman.
After an introduction of the judges and Wiggs was announced as the theme wear award winner, the four finalists were announced, in no particular order, as Bollinger, Barton, Kamora and Bright. The four women were then given a final question for the judges to consider: "In light of the past year's pandemic, what did you witness, or learn, that meant the most to you?"
Barton said she grew up in a church community. "I really witnessed people reaching out more, to going to church, because there's not a lot to do on the weekends when you're stuck at home. Our church offered a church service outside to anybody, COVID-free, kind of. I witnessed the church community growing and everyone in the community getting together, worshipping God, doing community service. And I think that was a great outcome of COVID. I don't know about you guys, but our church community grew immensely throughout the pandemic."