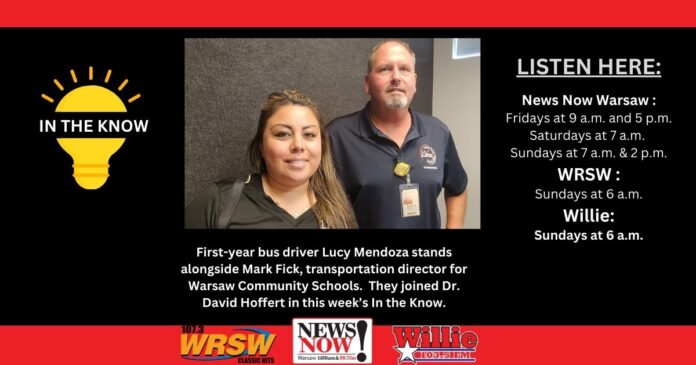 By Dan Spalding
News Now Warsaw
WARSAW — Warsaw Community School's need to hire more bus drivers was part of the discussion this week on the public affairs show, In The Know.
The district would like to hire about 10 more drivers and is offering a $2,000 phased-in bonus and a starting pay rate of 18.50 per hour.
Director of Transportation Mark Fick said the job can be a good fit for mothers of students and that the district works to ensure new drivers can have routes near their homes.
One of the new hires is Lucy Mendoza, a mother of four who said she like being around kids. She said she looks forward to being the bus driver of her children and driving students to special events.
One of the benefits is that their vacations lines up perfectly, she said.
She and all new drivers participate in six weeks of paid training that covers all facets of being a school bus driver.
Driving a bus, she said, was easier than she expected.
"I actually was really scared at first to drive the bus, but the mirrors are everything — and I actually like driving a bus better than my car because I feel like I can see better in a bus than in my car," Mendoza said.
Fick also points out that the large number of cameras inside the buses help deter student trouble.
Mendoza and Fick were part of this week's public affairs show, In the know, which can be Friday Saturday and Sunday on News Now Warsaw.
Superintendent Dr. David Hoffert was part of the show and discussed the first day of school and textbook fees.