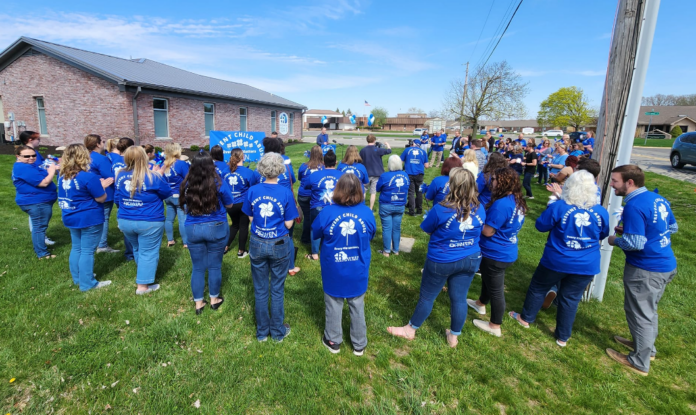 By Dan Spalding
News Now Warsaw
WARSAW — Local elected and civic leaders on Friday called on more people to get involved in the defense of children.
Story continues below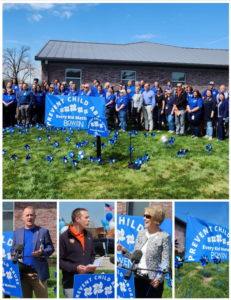 Dozens of people emblazoned with blue t-shirts calling attention to child abuse prevention provided a backdrop to a series of short speeches commemorating Child Abuse Prevention Month in Warsaw on Friday.
The event was held outside the Bowen Health Clinic entrance on Dubois Drive and included blue pinwheels placed in the yard.
Among those speaking were Mayor Joe Thallemer, Kosciusko County Prosector Brad Volez, and Judge Karin McGrath as well as Bowen Center's executive director Rob Ryan.
Representatives of Court Appointed Special Advocates (CASA) and the Department of Child Services (DCS) also addressed the crowd.
Here are a few highlights:
Kosciusko County Superior Court One Judge Karin McGrath
pointed out that trauma from child abuse doesn't end when they turn 18.
"These kids don't just leave our system and we can be relieved that they're now grown up and they're going to be okay. The damage that's been caused is repeated then in their own families in the next generation to come and it impacts our communities in measurably negative ways," she said. 
* * *
Sarah Cole, director of Kosciusko County, Department
of Child Services, said they only get involved in a fraction
of what's happening in the county involving child abuse.
"If you have concerns of abuse or neglect occurring, please remember that everyone in Indiana is a mandated reporter of abuse and neglect. If you suspect or have concerns of child abuse or neglect, please call our hotline which is staffed by DCS employees 24/7 365 The number to call is 1-800-800-5556," she said.
* * *
Erin Rowland Jones, the executive director of Court Appoint Special Advocates (CASA), said they need more volunteers, but added there are many ways one can help.
"If you can't be a casa be a Big Brother or Big Sister. Be a foster parent. There's so many ways you can give get involved to provide that relationship and community to families that need that." she said.
* * *
Rob Ryan, executive director at Bowen Center, said they work
to help families stay together, sometimes help them reunite
and in other cases, help ensure children find a safe new home.
"If we're going to spend some time working on intervention, how much more important is it to spend on actually making sure it doesn't happen in the first place?" he said.