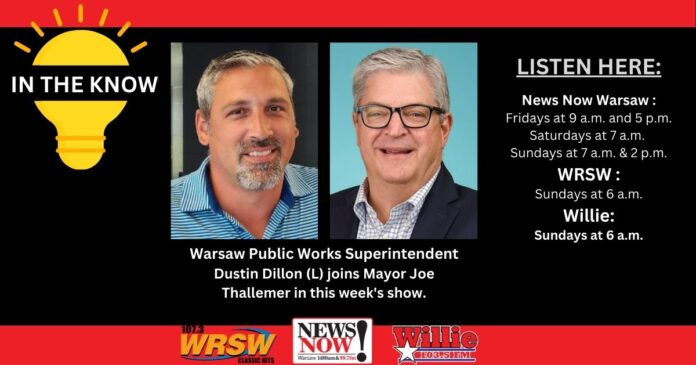 By Dan Spalding
News Now Warsaw
WARSAW — Summertime is road improvement season in Indiana and Warsaw is gearing up for some more big projects in the coming weeks.
The city Just finished up 30 road segments with its micro-surfacing, which included part of Market Street.
Eight road segments were also repaved, but there is more to come.
More work includes paving on some of the busiest streets later this summer. Much of that work is being done with support from the Community Crossings state grant fund.
That will include part of Ranch Road, Country Club Road, Jefferson Street (from Bronson to Argonne) as well as the part of Center and Buffalo streets near city hall, according to Public Works Superintendent Dustin Dillon, who talked about the Public Works Department during an appearance on the public affairs show, In The Know.
Other paving will include work on Indiana Avenue and High Street later this year, he said.
Specific dates for the work have not been released yet.
Asked to grade the city streets, Dillon pointed to a survey the city participates in that shows the city graded at 5.8 compared to the state average of 5.0.
Eight is considered very good.
"This year our goal was to get to a 6.5," Dillon said. "My ultimate goal is to get to a 7 … if you got roads 7-10 throughout the city, that's pretty phenomenal," he said.
Dillon also talked about the replacement of decorative street lights in downtown, a project that begins the week of Aug. 7 week and is expected to continue for a few weeks.
Small segments of street parking near the lights will be blocked off as city workers replace old light posts with new ones.
Dillon said he doesn't think the process will cause too much inconvenience for motorists.
"There should be very minor disruptions," Dillon said.
Mayor Joe Thallemer also participated in the show. He discussed the upcoming budget process and the future of the old Marsh property.
* * *
In The Know can be heard at the following times:
News Now Warsaw (99.7 FM and 1480 AM):
Fridays at 9 a.m. and 5 p.m.
Saturdays at 7 a.m. 
Sundays at 7 a.m. & 2 p.m.
WRSW (107.3):
Sundays at 6 a.m.
Willie (103.5 FM):
Sundays at 6 a.m.