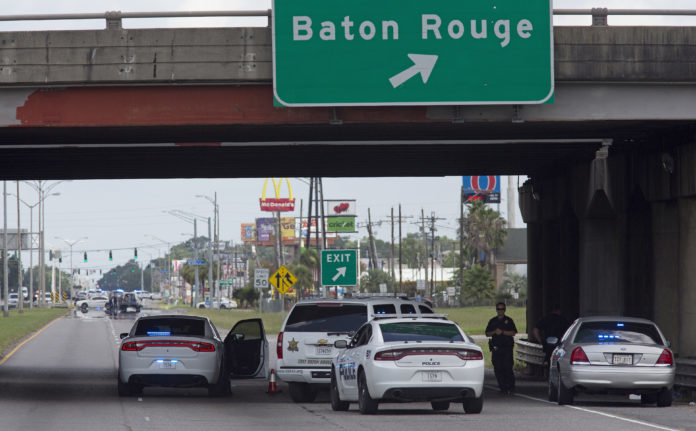 BATON ROUGE, La. (AP) — Police in Louisiana say that several officers have been shot in Baton Rouge while on duty.
Authorities say three law enforcement officers have been killed and three have been injured in a shooting in Louisiana. A sheriff's spokesman in Baton Rouge also said that one suspect is dead and two others are believed to be at large.
Spokesman Casey Rayborn Hicks issued a statement asking the public to report anything suspicious in the area to 911. Officers and deputies from the Baton Rouge Police Department and East Baton Rouge Sheriff's Office were involved in the Sunday morning shooting that took place less than 1 miles from police headquarters.
___
Police in Louisiana say that more than one officer has been shot in Baton Rouge. It happened around 9 a.m. local time on Sunday about a mile from police headquarters.
WAFB-TV in Baton Rouge reported as many as 3 officers were killed and 3 others injured at 12 p.m. on Sunday, though the numbers had varied with other news agencies.
Baton Rouge Police Sgt. Don Coppola did not know the extent of the injuries or give the precise number of officers injured. He says they were rushed to a local hospital.
Police-community relations in Baton Rouge have been especially tense since the killing of 37-year-old Alton Sterling, a black man killed by white officers earlier this month after a scuffle at a convenience store. The killing was captured on cellphone video and circulated widely on the internet.