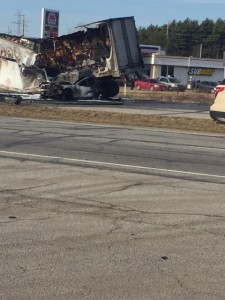 KCSD Press Release – Kosciusko County officials are currently investigating a fiery four-vehicle traffic crash that occurred today in Pierceton that injured three people and closed a portion of U.S. 30 for several hours.
Kosciusko County Sheriff's Deputies and emergency personnel responded today at 3:10 p.m. to the intersection of U.S. 30 & State Road 13 in regards to several 9-1-1 reports of an accident involving two semi-tractor/trailers. Responders arrived and found that one of the semi-tractor/trailers and a passenger vehicle had become engulfed in flames due to the vehicular crash.
Kosciusko County F.A.C.T. team members stated that a preliminary investigation into the crash has determined that a semi-tractor/trailer driven by Larry A. Schulz, 67, Lincoln, Nebraska, had been westbound on U.S. 30 approaching the intersection of St. Rd. 13, when he ran directly into the rear portion of a Dodge Neon that was being driven by Jeremy Noland, 23, Columbus, Ohio, who was stopped for a red traffic light. The impact caused Noland's vehicle to then strike the side of a second semi-tractor/trailer driven by Gregory L. Reese, 37, Claypool, Indiana.  Noland's vehicle then burst into flames, as did the side of Schulz's loaded trailer.  Noland, and his passenger, Crista Noland, 22, were pulled from their burning vehicle by an unknown passing motorist and Tyler Rothhaar, 20, Ligonier.  A fourth driver, Joshua M. Watts, 40, Portland, Indiana, also received minor damage to his Jeep as a result of the initial impact.
Jeremy Noland was transported to Kosciusko Community Hospital, Warsaw, Indiana, in serious condition with internal and head injuries. Crista Noland was also transported to K.C.H. with second degree burns to her legs, and was listed in serious but stable condition.  Gregory Reese was transported to K.C.H. with a possible leg fracture.  Officers noted that even with his injury, Reese was able to drive the semi-tractor/trailer(tanker), which was transporting gasoline, away from the impact area that had become an inferno.  Larry Schulz and Joshua Watts were purportedly not injured.
Officers stated that the crash is still currently under investigation. The Kosciusko County F.A.C.T. team was assisted at the scene by members of the Pierceton Police and Fire Department, North Webster E.M.S. and Fire Department, Warsaw Wayne Fire Territory, Lutheran Kosciusko E.M.S., Winona Police Department, and the Kosciusko County Sheriff's Department.