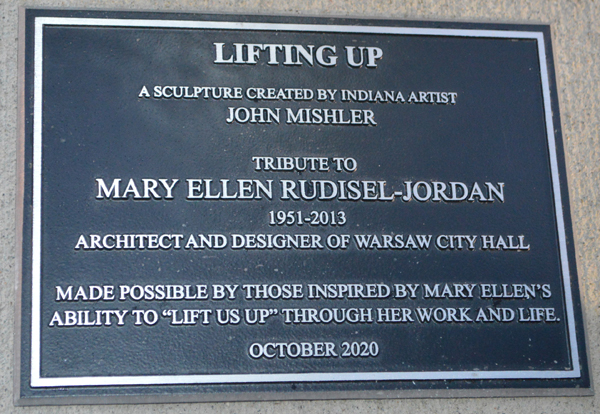 Mary Ellen Rudisel-Jordan was able to lift her family and friends up during her lifetime, and that inspired the name of the statue commissioned in her honor.
The name of the statue – "Lifting Up" – was unveiled in a short ceremony Monday evening in the Warsaw City Hall parking lot, where the statue stands.
Suzie Light, one of the members of the Warsaw Public Arts Commission, welcomed everyone to the ceremony. The other members include Paulette Davis, Sherri Johnson, Melodie Koher, Stephanie Salyer, Justin Taylor and Elise Wise, under the direction of Mayor Joe Thallemer with his assistant Staci Young.
"The mission of the Warsaw Public Arts Commission is to develop Warsaw as an engaging place to live, work and play through increasing awareness of arts for all ages," Light said. "We do this through temporary and permanent art installations."
Their goal is to create a virtual art trail, one that engages community members in an appreciation of art throughout Warsaw.
"Mary Ellen Rudisel was a talented architect, a dedicated member of the Warsaw community, who shared her talents with many organizations. Her vision for how a vacant bank building – an important anchor building in downtown Warsaw – could be transformed to serve the city of Warsaw as City Hall is noteworthy," Light said. "We wish to thank the many donors who made generous contributions in memory of Mary Ellen toward this wonderful sculpture by John Mishler, the artist."
Those donors include Rita Schobert, Esther Pfleiderer Charitable Trust at 1st Source Bank, Jay Maish, Warsaw Morning Optimist Club, Warsaw Octagon Club, many anonymous donors and The ArtFULLY Warsaw Fund.
Light noted a donor recognition event was planned in May, but then COVID struck. "Like many, we had to pivot, but the art was ordered and the installation happened. And tonight we're gathered to unveil the name, and we want our donors to know we truly appreciate their generous contribution," she said.
Thallemer said, "Working with Mary Ellen on this (City Hall) building, she had a lot to say about just about every line, curve, every thing you see on this plaza, everything on this building. It was a joy to work with her."
He said he and Rudisel-Jordan were friends, but through working with her on the building, before she died, he got to "really see how talented she was." Thallemer said he knows the spot where the statue now stands was earmarked by her as a place for a piece of public art.
"I feel very gratified that we're here, honoring one of her desires, and in another really good way, paying tribute to her, what she did for our community, not just in this building, but throughout our community," Thallemer said.
He said the statue was one more step toward having permanent artwork in the community.
Ot Schroeder, representing the Morning Optimists and Octagon Club, said, "It's just a shame to know Mary Ellen is not with us anymore, and I guess the best thing I can come up with as to why she's not here is because Heaven had a renovation they needed to do and she was going to be the architect."
He said she was a genuine, great person who was personable, smart, visionary, willing to help and liked to laugh. Schroeder said Rudisel-Jordan was a leader in all of her activities and functions, as well as a friend.
"If you couldn't get along with Mary Ellen, you just weren't trying," he said. "She was just that genuine of a person. Wanted to make you laugh and help with all things."
Schroeder said they lost a gem when they lost Rudisel-Jordan, but "Wow, what a neat structure to remember her by."
Mishler said he was very honored to have his art piece at City Hall. He really likes doing public art that is meaningful to people.
When he made the piece, he said he thought about several things: the City Hall, architectural shapes, his own work and looking up (the top of the statue has spinning pieces).
"I think it has something to say about her spirit," Mishler said.
He and Light simultaneously unveiled the name of the piece as "Lifting Up" and took the cover off the plaque.
Light then read the plaque, which says, "Lifting Up. A sculpture created by Indiana artist John Mishler. Tribute to Mary Ellen Rudisel-Jordan, 1951-2013, architect and designer of Warsaw City Hall. Made possible by those inspired by Mary Ellen's ability to 'Lift Us Up' through her work and life. October 2020."
After reading it, Light said aloud, "Love you, Mary Ellen!"