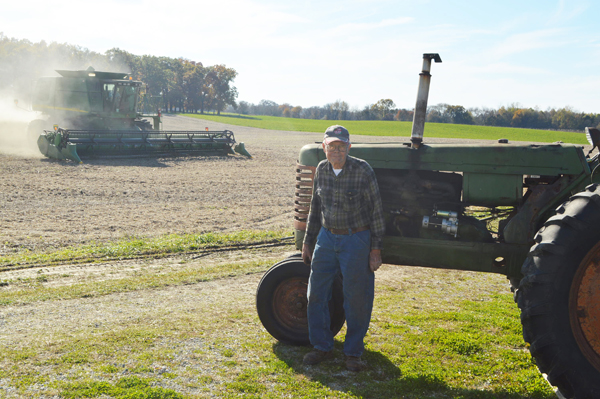 TIMES UNION REPORTS – Wanting to help him after the passing of his wife of 63 years, friends and neighbors brought their combines and semis to Robert Frantz's home on County Farm Road Monday to help Robert harvest his soybean crop.
About 120 acres were harvested quickly on the Warsaw farm, starting at 1 p.m., with the warm sun looking down and a slight wind blowing the dust across the fields.
Robert, 83, and his wife of 63 years, Ruth, both had contracted COVID-19. She went into Kosciusko Community Hospital on Sept. 20 and was put in ICU for two weeks and two days, according to Robert. During that time, Robert was on the third floor of KCH with COVID-19. While Robert was released after four days, Ruth died Oct. 19 from respiratory problems.
Ruth would have been 83 on Nov. 3.
Robert was raised just south of the property he owns and has been a farmer his whole life. He said he and Ruth lived on their farm since they got married in 1958. He did most of the farming himself, but he said Ruth would help out. While he baled the hay, Ruth would drive the pickup so Robert could load the bales on the trailer.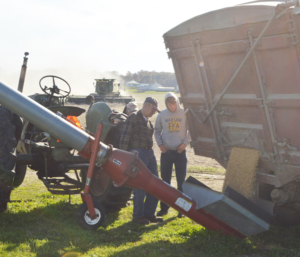 They have livestock, too, and Ruth would take care of the goats. Two years ago, the last of the goats died while Ruth was in the nursing home with sepsis.
Robert would do most of the crop harvesting himself over the years. He had planned to use his combine to harvest them this year, but between the wet weather and the sickness, it was questionable.
"They're helping out," Robert said of his friends and neighbors assisting with the soybean harvest on Monday. "When I planted them, I wasn't planning on this."
Warsaw Community High School had an eLearning Day Monday so Thomas Boggs, 17, was able to volunteer with his father, Ed Boggs. Thomas ran a semi while Ed operated a combine.
"We're just here helping him out. We're just here helping him run the farm," Thomas said at the Frantz farm. "We've helped with some of his stuff, just the family in general, because we're family friends and this is just, he needed to get it done before winter time and he doesn't have his wife to help him anymore so we just decided to help."
Thomas said if Robert needed more help, like harvesting corn, they would probably assist with that, too, but as of Monday harvesting the soybeans was it.
"We've got three combines going and six people, including me, helping, either semi or combine or running something," Thomas said. He said they had three semis but might bring in another if needed. He estimated it would only take an hour or two to get the harvest done with three combines going. The combines were provided by Ed Boggs, Mark Montel and Robert.
"It was a no-brainer because it's just family. All of us out here, we work together, if you don't work together you fight each other and that just doesn't work out in the end," Thomas said about volunteering to help.
Farmers generally hope to have the combines parked by Thanksgiving.
Robert said the 120 acres harvested Monday was what remained of the 200 acres he has. He also has about 40 acres of corn to get out.
At 83, why is Bob still farming?
"What would I do otherwise?" he said. "It's what I've always done. I ain't quitting so I have to. I begin to wonder sometimes if maybe I'm not going to have to. I think I may have to at some (point)."
He said when he had COVID, it wore him out, but he feels much better now. While he and Ruth were in the hospital, neighbors stepped up and took care of his property.
"I had to tell them over the phone how to grind hog feed," Bob said. "Hogs ran out of feed and they needed feed, so I told them what to do."
He had 31 hogs that needed tended to while he was in the hospital. He doesn't have any now. He had cattle, but got rid of them a couple of years ago and rented the pasture out to Ed Boggs.
Ralph Montel was helping out at the Frantz farm pulling the header as his son, Mark, was driving a combine. Ralph said he doesn't know Bob well but he's known him for 50 years.
"When I was younger, that (farmers helping farmers) was a big thing. That was done quite often. Now, they're so big, they don't do it so much. I live in an area near the Creighton farms, you don't bother them, they don't bother you. I don't have any trouble, I don't mean that. It's just not like the old days when you had a lot of little farmers," he said.