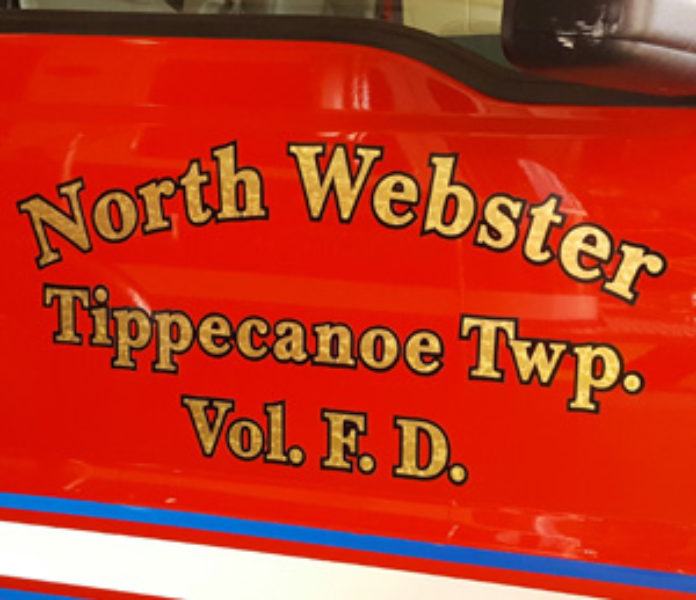 (Times Union)
NORTH WEBSTER – An overnight blaze in North Webster completely destroyed one home and damaged two others.
North Webster Fire Department was dispatched to 91 EMS W15 Lane, North Webster, at 12:55 a.m. Friday.
Upon arrival, according to NWFD Lt. Matt Stamm, firefighters found multiple houses on fire.
"Honestly, it looked like a giant fireball to me," Stamm said.
The main house fire, at 91 EMS W15 Lane, is owned by Toby Weaver, according to county property records. The home is a total loss.
"There's nothing left, it's all the way on the ground," Stamm said. "I think it was pretty much on the ground when we got there."
The second house that was on fire was next door at 95 EMS W15 Lane, owned by John Lynn and Rebecca Anne Pittinger, according to county records. That home is at least 50% total destruction, according to Stamm.
"I bet you 80% of the structure has fire damage," he said. "At least one half of that (home) is still standing."
The third house damaged, at 61 EMS W16 Lane, North Webster, sustained heat damage that included melting the siding off, Stamm said. That home, according to county records, is owned by Charles and Elizabeth Crouse.
No one was home at the time of the fire at any of the three houses, Stamm said, adding that was a good thing. No injuries to civilians or firefighters were reported.
The cause of the fire is under investigation, but Stamm said he doesn't suspect foul play, but pointed out it is an active investigation.
Stamm said he's spoken with all three homeowners and they all said they have insurance.
"No one knows exactly what happened," Stamm said. "The one house, the possible one where the fire started, I know they were remodeling the house at the time."
NWFD was assisted at the scene by Turkey Creek Township Fire Department with a full assist, Pierceton Fire Department with a full assist, Leesburg Fire Department with a water tanker, Winona Lake Fire Department with an engine and manpower, Sparta Township (Cromwell) in Noble County with a full assist and Noble Township Fire Department with a full assist.