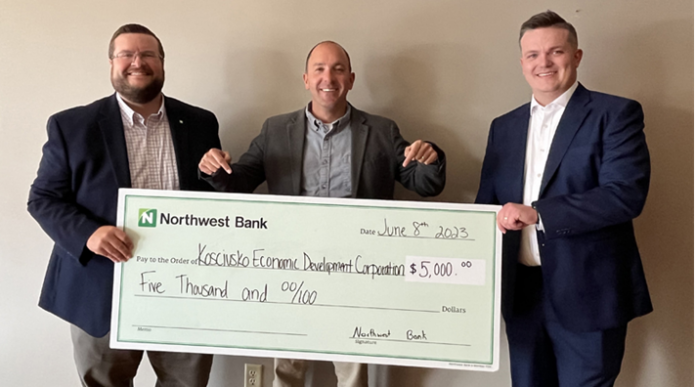 News Release
WARSAW — Northwest Bank recently announced a $5,000 donation to the Kosciusko Economic Development Corporation.
This contribution underscores Northwest Bank's commitment to supporting local economic development and fostering growth in the region, according to a news release from Northwest Bank.
KEDCo plays a vital role in attracting businesses, driving sustainable economic growth and creating job opportunities in Kosciusko County, the release states. Northwest Bank's donation will strengthen KEDCo's initiatives, including business incubation, workforce development and infrastructure enhancements.
"We are thrilled to collaborate with KEDCo and invest in our community's future, this donation demonstrates our commitment to driving economic growth and prosperity in Kosciusko County. We believe in KEDCo's vision and their ability to make a positive impact," said Devin Schultis, area manager of Northwest Bank.
Northwest Bank's donation exemplifies its commitment to corporate social responsibility and community empowerment, according to the release. Through strategic partnerships and impactful initiatives, Northwest Bank continues to make a difference in Kosciusko County.