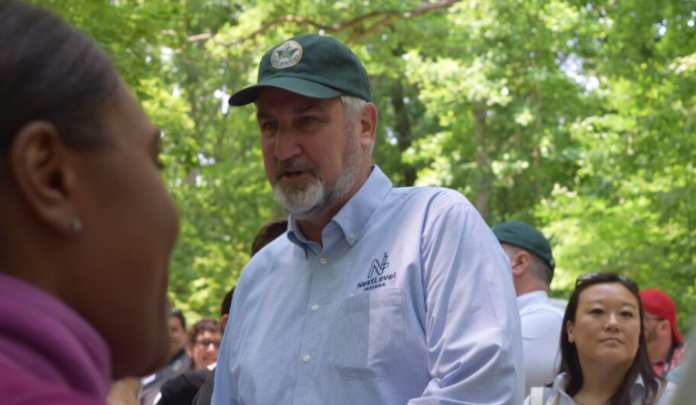 By Casey Smith
Indiana Capital Chronicle
INDIANAPOLIS — Indiana Gov. Eric Holcomb said explicitly he will not make a bid for the U.S. Senate in 2024, quashing rumors that he would seek federal office after his gubernatorial term ends next year.
"I've closed the door. I'm too busy," Holcomb told the Indiana Capital Chronicle Friday.
Last week, the outgoing governor appeared to say in an op-ed that he will not run for the open U.S. Senate seat — or any other office — in the next election cycle. The announcement likely makes Third District Republican U.S. Rep. Jim Banks a lock for the GOP nomination.electi
U.S. Sen. Mike Braun is giving up his seat to run for governor in 2024.
"I tried to make that clear — maybe I buried the lead," Holcomb said about a Senate run. "I've had a lot of people contact me lately, and it was just taking up time. But out of respect to them, I thought things through. But we've got a lot of good news in the pipeline here for Indiana, and that's going to require my attention, and what I signed up to do — and I enjoy doing it. So that's where I'm at."
He hasn't ruled out the possibility for a bid after 2024, however.
"You never know," Holcomb said. "But right now, I'm worried about the job that I've got. Not the next one."
Still no endorsement for governor
Holcomb additionally said he'll continue to hold off an endorsement in the GOP contest to replace him, saying he hasn't "decided yet" on the 2024 gubernatorial primary race.
"That's not to say that I won't at some point," he said. "I'm under no timeline myself, and that would be the only timeline I'd hold myself to, as my own. But I'll give everyone the space that they need to define their candidacy and share who they are, share their plans."
Holcomb previously told reporters he'd dive into the primary election, and give an endorsement, following the adjournment of the 2023 legislative session. He's since danced around any endorsements, though.
"We need people who will turn the cards face up, be very transparent about — not just what they're for — but what they'll do, and how they'll do it," he said. "So, having a plan in hand, and then acting on it, and then listening and learning … I don't want to be egocentric about this, but there are probably three good suggestions for any job … plan, act, and then listen and learn from your mistakes or where you came up short , and adjust. That's what I think's been lacking on the federal front."
"Look, I'm not running, but I do need partners — and not just me, the 49 other governors of both parties — need partners who will focus on the big items of the day that are anchors right now. And the same would hold true for anyone running for governor in Indiana, or the country of any state. And so they need the freedom and the space to be able to share substantively — not just filling out a survey — but here's what we want to do. And I've tried to do that," he continued. "I'm not asking anything of anyone that I haven't asked of myself. I've tried to say we need to take this to the next level, but that requires you to actually have plans like trail program plans and broadband internet plans. And so that's what I'll be looking forward to. As those get clearer, my mind will get clearer, too, and discerning what I want to do"
Holcomb cannot run for a third successive term under Indiana law.
Lt. Gov. Suzanne Crouch, Braun and Fort Wayne businessman Eric Doden are all running in the Republican primary for governor. All three contenders have deep pockets, promising an expensive primary race.
On the Democrat side, former Superintendent of Education Jennifer McCormick has jumped into the race. Donald Rainwater will also run again for governor as a Libertarian candidate.
* * *
The Indiana Capital Chronicle is an independent, nonprofit news organization dedicated to giving Hoosiers a comprehensive look inside state government, policy and elections. The site combines daily coverage with in-depth scrutiny, political awareness and insightful commentary.
You can read the original version of the story here.