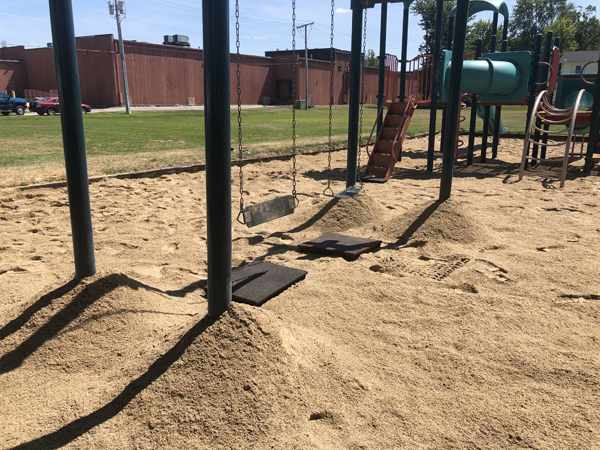 Weather, age and vandalism have taken their toll on the playground equipment at Rarick Park, but like the many other parks the Warsaw Parks & Recreation Department maintains, there's a plan for it.
The park – which is comprised of a basketball court, a 27-year-old playground set, swings and a backstop for a field where T-ball used to get played – is along South Washington Street behind the old Marsh Supermarket building. The park is at a lower elevation than the residential neighborhood to the west of it, so when it rains the water flows down an alley, across Washington Street and into the park. There's no curbing along Washington to keep the water from turning the park into a mud pit.
Inspections
The last inspection report of the playground equipment was done June 25. According to a copy of that report, the Park Department inspector listed problems as: crack on short tube slide, surface material too low and is rotting, graffiti has curse words on the short tube slide and crawl-through tube. The audit also states the surface material is too low and concrete footers were showing by 2 inches or more.
When the issue with the concrete footers was pointed out to Park Superintendent Larry Plummer on Thursday, he had his laborers filling the playground area with sand Thursday and Friday as a temporary measure.
"We had been meaning to bring sand down here for a long time and we're waiting on fiber. They had a fire at the Shipshewana plant and that's where we get it from. We had to wait on that. We were lucky enough to get one truck load to finish out Kelly (Park), but the demand is so big right now because they were out of commission for five months. If you got it from Ohio or some other place, it went double as far as cost," Plummer said.
Wood fiber has more cushion and it's better "fall height," he said.
The March 3 inspection report listed similar problems but noted burn holes in tubes were filed down and the "lots of graffiti" was removed. A copy of the June 18, 2019, inspection report was similar, but also noted "main platform is rusting and starting to weaken" and "surfacing added – washed out due to no curb." The March 7, 2019, inspection report noted the surface was replaced and "washes out every time it rains due to no curb line."
Plummer and Maintenance Director Shaun Gardner discussed the condition and plans for Rarick at the park Friday afternoon.
During the busy months, Gardner said they try to do monthly inspections of each park. Yearly, they'll do a more-thorough audit, but "normally, it turns up the same thing we find on our monthly inspection," he said.
Plummer said, "Basically, all the audit is, is just a report that Shaun does for the Park Board and it's our inspection sheets put on paper, that's what it is."
"And that helps us prioritize what gets done," Gardner said.
Plummer said they started the inspections about in 2010.
"We had a young man get hurt on the swing set at Richardson Dubois. He was a 16-year-old pretty-good-sized kid and jumped off a swing – stood on the swing and jumped off and hurt his arm. And, we had no formal training back then as far as inspections," Plummer said.
Attorneys got involved and gave the Parks Department some direction for what helps and what would protect the city legally.
Plummer and Gardner became certified playground inspectors. Since then, two other Parks employees do that and now they take a course called Certified Playground Maintenance Technician.
"We have four or five guys now that have been through the Maintenance Technician and we're trying to send a couple every year, every other year, just so we have guys on staff that have been trained," Gardner said.
Once they learned what the violations were, Plummer said they learned they had a lot of them.
Gardner said about 75% of playground injuries are just from misuse of the play structure.
Ker Vs. Rarick
"From our five-year plan from 2018 to '21, we've got Kelly, Beyer, Rarick and Ker (parks). Those four parks to do. We did Kelly. So we were down to Ker and Rarick, they were on the table to do. Ker Park – we had picnic tables that were deteriorating; they were rusted, you couldn't sit on them because they were going to fall off. We had trash cans that were bad. And if you look through these inspection reports, between Ker and Rarick … you can see that they're very similar in the shape they're in," Plummer explained.
The last inspection report on Ker on June 25 lists issues as: rubber coating peeling off platform by monkey bars; general wear and tear, rubber peeling off, painting peeling off and some rust. The March 3 report lists issues as: graffiti in all of the tube slides, rubber coating broke off of platform, rubber coating cracked on chain ladder, metal tubing on arched climber cracked and surface rust. The March 7, 2019, inspection report lists similar problems and notes "low surfacing" and "rust forming."
"The condition of Ker Park was no better than this park (Rarick)," Plummer said. "Since we're redoing Market Street, the idea was that we were going to do Ker Park first, not only because of the condition of the playground but the condition of the amenities, but also the volume of play at Ker is much more than the volume of play here. So that was the determination of doing Ker first."
Five-Year Plan
The five-year plan lists what projects the Parks Department would like to tackle during those five years, but due to funding and other considerations, that plan may change. The department will begin looking at a new five- or three-year plan in 2021.
Plummer said, "So what we'll do now is we'll take Beyer and we'll take Rarick, and we'll do the same thing: We'll inspect both of those and the lesser of two evils will be the one we'll replace. We've talked about not even replacing (Rarick) due to the fact that every time we put engineered wood fiber in here, there's no curb line up there. And what happens is $2,000 worth of wood fiber ends up in the alley" to the east behind Marsh. Plummer said that's happened three times.
Gardner said the water rushes right down the east-west alley and gets into the park, floating the wood fiber right out. The park is like the bottom of a bowl.
"It floats it right out of here," Plummer said. On Thursday, before the sand was put in, there was no fiber left around the playground equipment. "We've put $6,000 worth of fiber in here over the years, and it just floats away. Until that curb line is fixed, we've either got move something or eliminate this or move it somewhere where it's not going to be a problem or there is a curb, or do something different."
For now, he said the best they can do for the Rarick playground equipment is put sand down.
There was some concern about how safe the Rarick playground equipment was for kids to play on. Plummer said he didn't see that it was any greater risk than what was taken down at Ker. While the Rarick playground set was put up in 1993, Ker was put up in 1994 and Beyer in 1991.
"It's just what you can afford per budget. With having to cut the budget down next year (because of COVID), I'd like to do two of them next year but I can only do one of them," Plummer said.
Walking on the Rarick playground equipment, Plummer pointed out the issues highlighted in the inspection reports. "But it's set out for 30 years, and it is what it is," he said.
Vandalism
One of the tubes has several burn holes. He said kids will sit in the tubes with their lighters and burn holes in them. The piece was replaced 10 years ago for $300. "We put them in here. We had them for about a month, they burnt holes right back through them again. So we just left them that way and we filed them off. So be it. I can't throw money in the wind when people keep vandalizing them," Plummer said. The holes are on the top of the tubes so they weren't considered unsafe.
"We did sand and smooth out the edges like where they took knives and carved them so there were no sharp edges," Gardner said.
Over the years, Plummer said Rarick Park has been a "heavily vandalized" place.
"It's one of the tops," Gardner agreed.
Plummer said Rarick didn't have a perfect playground right now, but it was better than nothing for the area. He said if he would deem the playground as nonsafe, where it was a hazard where someone would get seriously hurt, he'd go to the Park Board and ask them to take it out.
"We're about safety, but we want to give kids options," Plummer said. "Many municipalities don't have the luxury that we have to replace our equipment like we do. So, some municipalities would give their right arm to have this piece."
Warsaw Parks Department has 18 parks to maintain, with a ribbon-cutting for the new Rotary Park scheduled for Sept. 25.
"We're trying to do one a year and keep them rotated and keep the standards and do what we can. But it may be a place where we just put in more swing sets and call it good because of the vandalism," Plummer said.
Within the next two years, he said Rarick Park will be addressed.
"We'll either do this one or Beyer next year. If Beyer is in the same condition as this one, we'll probably lean toward Beyer because it is a high-traffic area. But then we'll probably budget to do this one in 2022. That's according to our plan," Plummer said, noting that it could be affected by the coronavirus pandemic and budgeting. "… Who knows what the next year or two will bring as far as taxes coming in and revenue and things of that sort that affect our budget. We've got to be mindful of that, too."