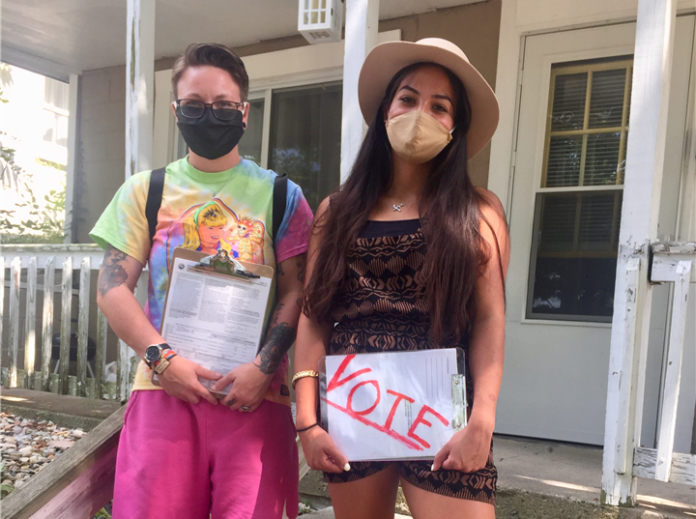 If you don't think your vote counts, Maria Duenas Lopez has news for you. It does.
Duenas Lopez founded and is now president of the group Warsaw Area Voters – a group with a mission to get folks registered to vote and to help them cast their ballot.
A 2016 Warsaw High School graduate, Duenas Lopez, 22, recently graduated from Indiana University-Purdue University Indianapolis with a bachelor's degree in political science. She is a first-generation Mexican-American who was born in southern California. Her family moved to Warsaw before she started kindergarten.
"Living here, I didn't really hear about voting," she said. "There was no outreach for voting for high school students. All you hear during high school is that young people don't vote, and it's like well, young people don't vote then why should I vote, but that's not what we should be pushing to students."
Duenas Lopez said she believed her vote didn't matter for a long time, and that she didn't vote in the 2016 election for that reason. She says she now realizes the impact she had by not voting.
"Your vote is super influential, and it affects every part of your life whether you want to admit it or not, and if more people understood that their voice has more power than they think they do, then that could be lifechanging for somebody.
Duenas Lopez started the Warsaw Area Voters group in late June and has held meetings every other Sunday at 11 a.m. at the Kimiko Dance Academy on Ind. 15. Anyone is welcome to attend and get involved.
What they'd be getting involved with is bringing their own interests and backgrounds to help get people out to vote.
That's how it worked for Riley Krajewski, 30, of Winona Lake,  who is now serving as the group's vice president.
"The role that I?played in this organization from the beginning comes from my background as a felon and a recovering drug addict,"?Krajewski said. "It is a common misconception among felons that they don't have the right to vote, and that's not true. We do have the right to vote in this state. It's not like that in every state, but in Indiana it is. The only reason that you could not cast your vote as a felon is if you are currently incarcerated doing your time. But if you are parole, probation or have a long list of felonies, there is no felony that disqualifies you from casting your vote."
Krajewski said that she thought she couldn't vote for a long time. Once she realized she could vote, she started to talking to people in her same shoes who also didn't know. And that, she said, is why she feels uniquely qualified to help Warsaw Area Voters in the capacity that she is.
"As a recovering drug addict, I'm always around the recovery community," she said. "I'm well known among the recovery houses in the area, and I?have connections with the probation department, the jail, and so that's the angle that I take."
She said she's gotten a lot of people registered after 12-step meetings.
"I've never ran into someone at these meetings or just in these (recovery) circles that said to me, 'Oh, yeah, I already knew that,'" Krajewski said. "They tell you in recovery it's all about becoming a productive member of society again, and one of the most basic ways to do that is to exercise your civic duty to cast your vote."
The group not only beats the streets to register people, they also have an active presence on social media with the intention to inform voters of their candidates up for election.
They think they've gotten about 100 people registered. But their service doesn't stop there, Duenas Lopez said. They have a hotline number people can call if they need a ride to cast their vote, if they need a translator to vote or if they just have general questions about the voting process. That number is 574-376-3399.
Duenas Lopez has been busy setting the group up to become a 501c3 nonprofit organization, because people want to donate, she said.
If anyone wants to get involved or learn more about Warsaw Area Voters, they can reach out to Duenas Lopez and other board members at www.warsawareavoters.org, or simply show up to a meeting.
"At the meetings we really dive into things a lot more and you have the opportunity of tailoring what you want to do with the organization," Duenas Lopez said. The group is need of volunteers who can translate and/or provide transportation.
She also stressed the importance of the Latino community's vote.
"They haven't been reached out to before, and I think that this year we really do have the power as a Latino community to change things," she said. "That goes for all under-represented communities to have the power this year to really make a difference regardless of which identity or group you're categorized in or how you categorize yourself. This is your time to have your voice heard and to show everybody that your voice is just as important as anybody else's."