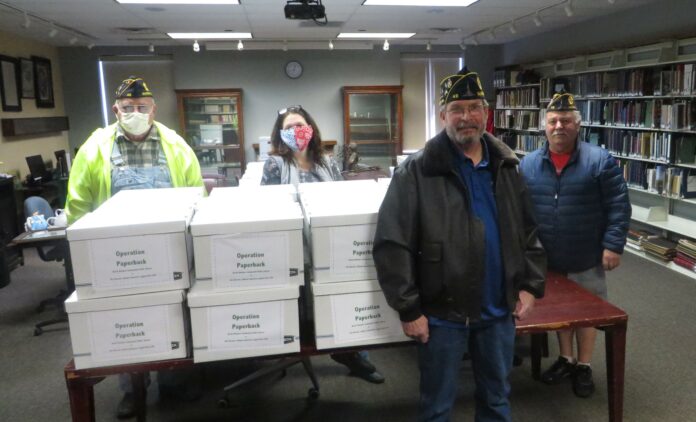 For the last three months North Webster Community Public Library has been partnering with Warsaw American Legion Post 49 in Operation Paperback to collect and ship new and gently used paperback books to active U.S. Military personnel serving overseas.
On Friday, April 17, the library presented over 600 paperback books to Warsaw American
Legion Post Commander John Mort, Post Adjutant Mike Daub and Past Commander Thomas
Kinch. The boxes also contained bookmarks that North Webster school children colored and
included information about where the books came from. The post will arrange shipment
overseas for distribution to those serving in the U.S. Armed Forces. The post is covering all
shipping costs.
The books were donated by library patrons and community members as well at the library. "We want to thank the generosity of all who donated and contributed to Operation Paperback. Their efforts will provide a little entertainment and comfort from home for those serving their country overseas," stated North Webster Library Adult Services Director Beth Smith.