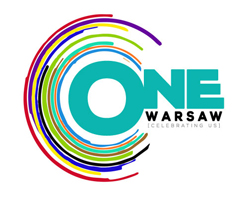 ONE Warsaw's third annual Celebrate Us event will be a celebration of inclusion in the community from 4 to 8 p.m. April 30.
The event is downtown Warsaw near the county courthouse.
The second was online due to COVID.
According to a news release from One Warsaw, you'll find information booths, cultural dance, music and performers and new foods to try.
ONE Board Treasurer Heather Lardino said, "It's time to celebrate our differences and experience other cultural traditions including food, dancing, and music!"
ONE Vice President Roberto Perez-de-Frias said, "When we celebrate our differences and what we share in common, we open the door for a more diverse and inclusive environment. As author Andres Tapia wrote: 'Diversity is the mix. Inclusion is making the mix work.' Let's #CelebrateUs and make the mix work!"
Featured foods will include:
• 110 Craft Meatery – serving locally-sourced, authentic, pulled pork
• Biryani Kitchen – authentic Indian cuisine. Vegan options.
• Tacos Jalisco food truck. Lots of Mexican options.
• Bomy's Authentic Indian food. Vegetarian options.
• More to be announced.
Times for featured performers will be announced when event nears, but will include Leanne Stewart Dancers, Ballet Folklorico de Nuestra Dancers, South Bend Latin Dancers, Gary Gerard Band, Charles Cotton Saxophone, Omotayo Rite of Passage and Marena Moonflower.
ONE Warsaw is a nonprofit with the goal of aiming to inspire community inclusion through support, education and celebration of all people. For more information about the board, how to help or more about this event, visit https://onewarsaw.org/.