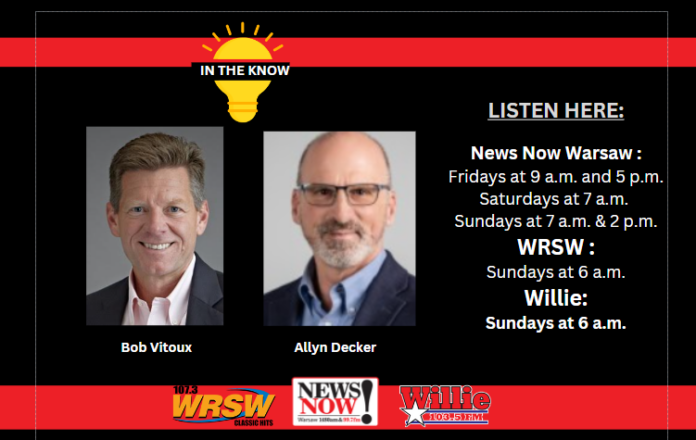 Editor's note: Much of this story comes from our conversation with OrthoWorx officials intended for the public affairs show, In The Know, but also includes additional information about the newly announced Ortho Academies discussed after Wednesday's interview.
By Dan Spalding
News Now Warsaw
WARSAW — OrthoWorx, alongside local orthopedic manufacturers and educators, is working to create a pipeline of talent for job opportunities that has never been seen before in Warsaw.
A collective effort that includes numerous companies, Grace College, Ivy Tech and a consulting firm from Purdue University, are all coordinating with OrthoWorx to prepare students in high school and higher education to be ready to move directly into the local orthopedic industry.
The latest effort involves the establishment of ortho academies that will pair up manufacturers with local school districts.
Paragon Medical is working with Whitko Community Schools and Wawasee School Corporation is partnered with Polywood.
The newest academy was announced earlier this week with Warsaw Community High School and Tippecanoe Valley Schools involving the upcoming launch of the Regional Advanced Manufacturing Pathway (RAMP) program that will be available to students beginning in the 2024-2025 school year. 
RAMP will initially rely on four local manufacturers — Instrumental Machine & Development, Medartis, PreMedTec and Zimmer Biomet. The program will be offered to a select group of junior and senior manufacturing pathway students at the Warsaw Area Career Center (WACC). 
Through the program, students will have the opportunity to gain fundamental manufacturing skills, hands-on experience, and an internship opportunity with one of the industry partners, according to a news release from WCS.
OrthoWorx turned to an organization at Purdue University – IN-MaC – that helps develop similar programs at high schools across the state and that gained recognition after working to establish one involving Toyota in southern Indiana.
RAMP will initially rely on four local manufacturers — Instrumental Machine & Development, Medartis, PreMedTec and Zimmer Biomet.
OrthoWorx was established in 2009 with funding from the Lilly Endowment and recently experienced a reboot of sorts with a new round of funding from the endowment. That change has allowed the organization to increase staff.
"Our goal is to create employable skilled young people who can go right into industry post-high school because they've gotten all this curriculum, along with and the hands-on experience and the on-site mentoring through their and internship opportunities before graduating," said Allyn Decker, VP of Operations and Engagement, who joined OrthoWorx just a few months ago.
The combined efforts are the biggest organized effort seen locally to help prepare the future workforce.
Decker said he has no doubt about the demand for jobs in the local orthopedic sector.
"They've been telling us for years they'll take every single advanced manufacturing trained person that we can provide," Decker said.
The demand is so strong, in fact, Zimmer Biomet has established its own internal CNC training program for current employees.
"They essentially have kind of taken things into their own hands in that regard and said, listen, if we can't get enough skilled workers from the traditional training and college route or the traditional CTE route we'll take it in-house," Decker said.
Decker said they want to create a pipeline that will provide economic independence for young people.
"When they're out of school and can be earning $20 to $30 an hour with amazing full-time benefits and tuition assistance to be able to pursue higher education at low- or no-cost, everybody wins," Decker said.
OrthoWorx has also worked to develop other programs geared to encourage high school students to consider a career in advanced manufacturing, Two of those include:
Discover ME (Manufacturing Experiences) a week of classroom curriculum and experiential tours each October that involves every eighth-graders in the county who have a chance to learns about career opportunities and tours at at least one manufacturing site with an industry partner. 

Another is the Real ME program, a one-day program targeted toward high-school sophomores that creates awareness of local career opportunities and the professional skills needed to succeed.
In another development, Decker said Grace College is establishing a one-year orthopedic MBA program that will include online and in-person learning as well as internships. The program will begin in May and the college hopes to enroll a minimum of a dozen students in its initial effort.
A new era?
Meanwhile, those watching the orthopedic industry in Warsaw could very well look back at the past few years and suggest the local industry is is in the middle of a golden age.
In the past year, the company has seen two international companies — Medartis and Mentore Media — move into Warsaw.
Some of that has to do with the growth of the Warsaw technology park, the growing emergence of KEDCo (the economic development group in Warsaw), and state leadership that has embraced the orthopedic capital of the world and is offering OrthoWorx $30 million in support to attract and retain orthopedic workers into the local market.
Bob Vitoux, president and CEO of OrthoWorx, who's working with other groups in helping prepare a plan on how to use the $30 million in state money, said the local orthopedic environment is on fire.
"There is just a tremendous amount inertia right now," Vitoux said. "Having been in and around this industry for 30-ish years, I don't remember the amount of energy that I sense that's here."
Part of what's driving the growth in local orthopedics is innovation and a change that has emerged since covid that has seen the industry embrace the use of surgical centers for orthopedic implants as technology no longer requires inpatient surgery for hips and knees, Vitoux
A few statistics stand out concerning the local implant industry.
Combined, all of the local orthopedic companies include about 10,000 to 12,000 existing jobs in the industry. At the same time, there are roughly 1,000 high school students who are graduating and preparing for careers.
That presents OrthoWorx with two big issues.
"What are we doing to retain as many of those kids as possible in this industry and then attracting new families," Vitoux said.
At the same time, it's a matter of how best to use the future state money in attracting new families to the community.
OrthoWorx has also been presented with a chance to use upward of $30 million in state money — and possibly much more in the future — to develop a plan on how to retain jobs in the industry.
OrthoWorx is currently working on a plan to use the money and will present a multi-faceted proposal to the state budget committee by early next summer.
The organization is working with various groups and community leaders on the endeavor.
Much of what they hope to do is improve the quality of life.
"I think the next generation that's coming into the workforce … really enjoys experiences," Vitoux said.