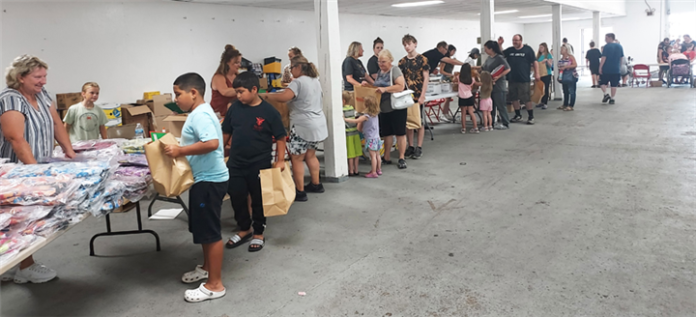 Over 600 Kosciusko County students were able to  get school supplies Wednesday to start off their school year well at Tools For School hosted by Combined Community Services.
Ami Pitt, Project Independence case manager/Hand-Up case manager at CCS, said Wednesday's event was the 27th Tools For School event CCS has had.
School supplies such as three-ring binders, erasers, rulers, protractors, pencils, notebooks, scissors and college and wide-ruled filler paper were given out to students.
The Optimist Club bought all the backpacks provided to students. Meijer bought half of all the school supplies. Other organizations that donated to Tools For School included Warsaw Community Church, TCU, the Church of God, the Church of the Brethren of Winona Lake and Crossroads Bank. Approximately $13,000 to $14,000 in school supplies were donated to Tools For School.
Intake is done at the door, but is not income-based, she said. "If you're willing to stand in line in 100 degree heat, you've demonstrated need."
She said the main focus of Tools For School is helping students.
Pitt said next year, she hopes Tools For School is even better.
Next year, Pitt said, since school supply lists are changing and different technology is being used in schools, she'd love to hear from teachers saying what types of school supplies they feel are needed for their students. Of course, Tools For School is going to have the basic type of school supplies, such as rulers, pencils and notebooks. But, Pitt said, she would like to have teacher input on what additional supplies they'd like to see.
Pitt said CCS is also hoping to use Warsaw Community School's cosmetology program to help give out free haircuts.
Pitt said CCS wants Tools For School to be a fun fair-type of event. They want students to attend the event and feel the excitement. CCS wants the students to feel equipped for school and loved, as well as feel their community is behind them and that they can succeed in school. To help with that, students were able to get free haircuts and there were informational booths to help families with different resources, such as Big Brother Big Sister.
Students at WCS and Tippecanoe Valley School Corporation were able to register for school if they had not already registered as of Wednesday.
Pitt said next year, CCS would love to have other school districts, such as Whitko,  Wawasee and Triton at Tools For School.
As far as she's aware, this is the first year TVSC has been represented at Tools For School, said Lori Tilden-Geiger, director of marketing, public relations and grant writing for TVSC. She was at the event to help students register at TVSC. Of the six or seven TVSC families she knows of that attended the event, all the students were already registered. Tilden-Geiger was able to help answer questions families had for the school year.
She said the event is amazing. The start of the school year can be expensive and it's neat to see the community giving back to students who need help.
She hopes the event helps students get resources that are sometimes hard to get.